In a parish in Córdoba (Argentina) a group of young people roll up their sleeves, spurred by the desire to put the Gospel into practice. Love for those in need stimulates their creativity.
In 2011, three young people from a parish in the province of Córdoba (Argentina) were invited to a meeting in "Mariapolis Lia," a small city of the Focolare Movement, 250 km from Buenos Aires. Participating at this meeting was a great experience for all three, a full immersion in the Gospel in action, an incentive to concretely give of themselves for others. "That meeting changed us," says Susana. "We found that we were more enthusiastic, more welcoming, more trusting in God who we rediscovered is Love. It was a chance to grow as people but also as a group." So much so that today there are about fifteen teens who are moving forward together with some very interesting initiatives. As an example, the "Clothing Fair," a very useful idea for their region in which there are many families who live below the poverty line.
In the parish, many items of clothing had been arriving which remained there, unused, because there was no one to bring them to those in need. So the teens took over: working hard, in a few Saturdays they had organized the location, which was a transformed basement; they had cleaned and perfumed it, thinking of those who would come to choose their clothes; they had displayed the merchandise, ironed and fixed up like new, and the result was the "Clothing fair."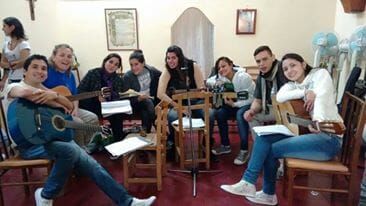 "One day," recounts one of the teens, "a mother of eight children came. Seeing those affordable prices she chose a lot of clothes, and when she went to pay, with tears in her eyes she confided to us that it was the first time she was able to buy something for her children. Another time a woman came who seemed very interested: she walked around, looking at all the clothing but without buying anything. In the end she stopped to talk for a long time with us teens. We found out later that she came back other times, too, because as she herself confided, she knew that here she would always find someone who listened to her."
Leaving after her turn at the Fair, one of the girls noticed a man on the church steps who was crying. Knowing that Jesus is concealed within every person, especially the poor, she thought of something: "If he were Jesus, would I leave him alone to cry?" She decided to approach him, and the man sorrowfully described that for days he had lived on the street, he had nothing to eat and he suffered from serious health problems. The girl returned to the Fair to call the others from the current shift to search for a place for him to stay and for some food. Afterwards, they also found him a job.
In many countries in Latin America, a girl's 15th birthday is an important date. One young girl in the group was about to arrive at this date, but her family had no means to celebrate it, inviting friends and family. Hearing about this, the teens from the group wanted to help. First, they dedicated themselves to the decorations of the hall, according to the preferences of the girl's mother. Then, they organized themselves to serve at table. But they, too, would have wanted to participate in the party and at the dance with elegant attire. What to do? Lined up in waiters' uniforms, they welcomed guests at the door and served them at table, and then, for the dance, they ran to change, surprising everyone, especially the birthday girl. At the end of the party, they changed back into work clothes to put everything back in place, leaving the hall clean and in order. Talk about love!
Source: focolare.org