Italy has finally promulgated a law dedicated to autism, inserting it among the essential levels of assistance for treatment. Federico De Rosa is autistic. At the age of eight he learned to write with the computer. His story talks about autism from the viewpoint of those suffering from it.
"I dream a lot and often. A recurring dream is that of a sunny day in which my sentiments and thoughts flow freely in a surge of words for all my friends. What a joy it is to be able to speak!"
Federico does not speak, even if he knows that communication does not only come about through language. The first symptoms were already evident at the first year of age. The more he grew the more his capacity to interact with reality diminished. At the age of three came the diagnosis. He was totally incapable of communicating, and was suffering from the strongest forms of generalised disorders in development, a very serious disorder that could be traced to the extensive and varied universe of autism.
In August 2002, the family was on a holiday in Palinuro. Federico has always been able to say some words, and brief but intense phrases. "Mum, what's wrong with me?" "Why me?". He then wrote the word "autism" on his computer. He was perfectly aware of it.
On 20 February 2010 he wrote to his friend, Gabriele: "I need you all to help me get out of my prison. You see, I feel so alone because I am unable to voice out my feelings. It is a great limitation. I don't understand how you who are not autistic, manage to find immediately in your heads all the right words and say them so quickly and also with facial expressions that reflect what you want to say. It is normal for you, but it seems like a miracle to me. I find it so hard to write one letter at a time, and manage only if Dad is by my side."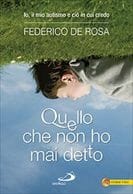 Now that he could write, his self-esteem grew, up to when he published a book Quello che non ho mai detto ("The words I have never said") wherein, for the first time we can see the point of view of a boy who explains his syndrome with rare and precious observations. This is how he emerged from his isolation, and finally experienced the joy of sharing his emotions. He concluded his studies in science up to secondary school certificate stage.
To this day, Federico says almost nothing. "I assure you," he wrote, " that I am almost unable to speak verbally. I express myself with single words, and only rarely with a small phrase. I can write only in big and shaky capital letters." And thanks to the computer, for the first time he was able to play with a friend and attend, together with his classmates, the first year of secondary school, and years later, participate "actively" in the meetings of the confirmation group. "Little by little, " he recounts, "my laptop became an inseparable companion. With my computer and the support of a qualified person at my side, I can express my views in every situation."
Today Federico studies percussion, has many friends, helps people with autism in their families with down to earth suggestions, and has a lot of plans for the future. "Now my life has found its course," he wrote, "thanks to the operators who taught me how to use the system, and my parents who launched themselves in this adventure with enthusiasm. Today I am happy with my life, and a great part of the merit goes to them."
But he's not thinking just of himself: "How many autistic people could have become other Federicos if diagnosed properly and given early intervention and been greatly loved and supported?". His dream for the future? "I wish to travel the world to meet families with infants who have a communication disorder, to try and interact with these children and to treat autism accordingly. Whenever a child needs me, I'll be there to help."
Source: CittàNuova.it