Multithumb found errors on this page:

There was a problem loading image http://www.focolare.org/wp-content/uploads/2015/11/9-giornata-PF.jpg
There was a problem loading image http://www.focolare.org/wp-content/uploads/2015/11/9-giornata-PF.jpg

In Kinshasa (Democratic Republic of Congo) 2,000 children launched their cry for peace. Martine, one of the educators, tells us about it
"Just try to imagine 2,000 kids rapping in unison: "Peace! Peace!" War is death, peace is love. And to think that all this has been happening for decades in a country torn apart by armed conflicts, the victims of which are mostly children. Now you don't need to dream – Martine recounts – because all this really happened last 7 November in Kinshasa in the Democratic Republic of Congo."
The art of loving for peace was, in fact, the title of the day meeting which the children of the Focolare Movement in Kinshasa held with the schools of the Petite Flamme social project which had thought of organizing an event to say: no to war and yes to peace and love, and involving their friends and other 20 schools of the city in this undertaking. On Saturday morning, under a dark sky that seemed to forecast rain but which later cleared out to a burning sun, a storm of children invaded the playgrounds of the main Petite Flamme School. Songs, dances, poems and sketches then unfolded to shout to the world that Peace is love, war is death.
Also the various civil authorities, diplomats and ecclesial figures who sat in the audience were overcome with enthusiasm, along with the representatives of the Italian and German Embassies, the coordinator of the evangelical schools of Kinshasa, and about 300 children, not to mention the coordinator of the Catholic schools.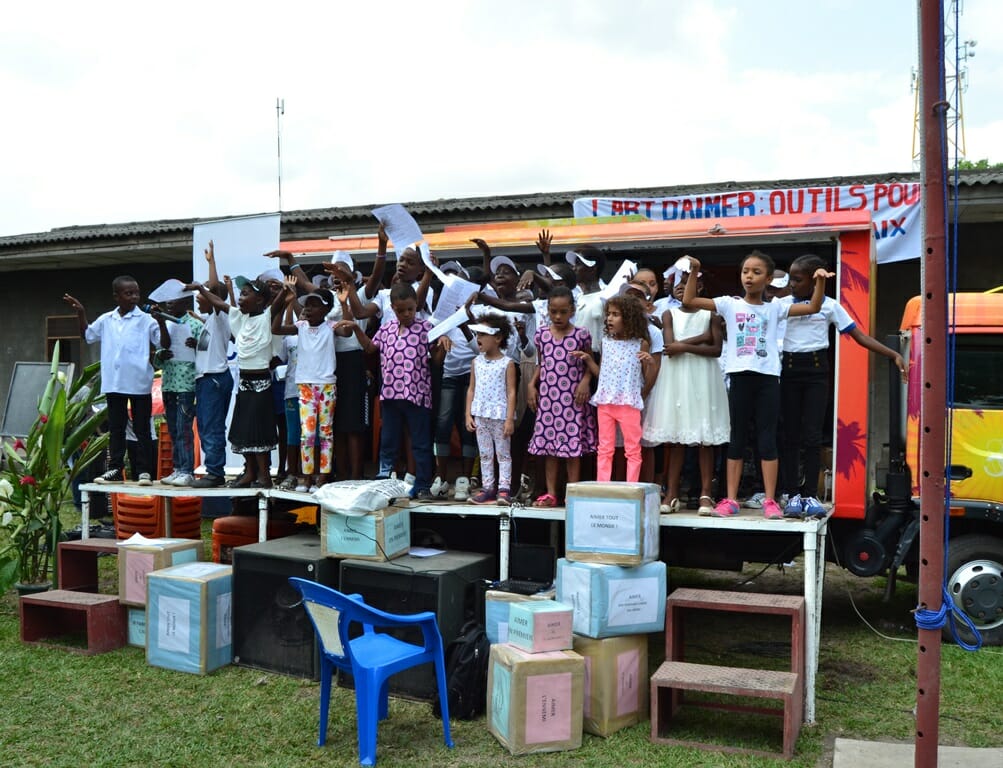 "Upon casting the Dice of love and explaining its significance – continued Martine – the children demonstrated that "peace starts with ourselves." And the many dices that brightened the stage were them solemnly delivered in the end to every school present, as a sign of a path and commitment to peace which all had initiated together. The 22 Evangelical school directors that we involved in this initiative, expressed their enthusiasm and desire to continue working with us in these types of activities.
The children were the real protagonists in the preparatory activities right from the start, with their capacity to involve everyone in the rehearsals of the songs and presentations, and the courage with which they announced and presented the meeting in a TV transmission… It was all so full of joy, enthusiasm and serious work, not to mention that even God showed his benediction through his Divine Providence! In addition there was our communion of goods and presents from parents and embassies, and even a bank sponsored the event and financed the building of the stage and sound system! The event was then broadcasted on the national TV channel, the same one that had launched the initiatives some days earlier.
And we, aged 0 to 99, lived this wonderful day for peace. What remained in the depth of our hearts after seeing the joy on the faces of these children? Hope. An unwavering hope. Because the future is in good hands."
Source: focolare.org