Living Peace – International Congress
1 December 2022 - 4 December 2022 | Castel Gandolgo (Rome)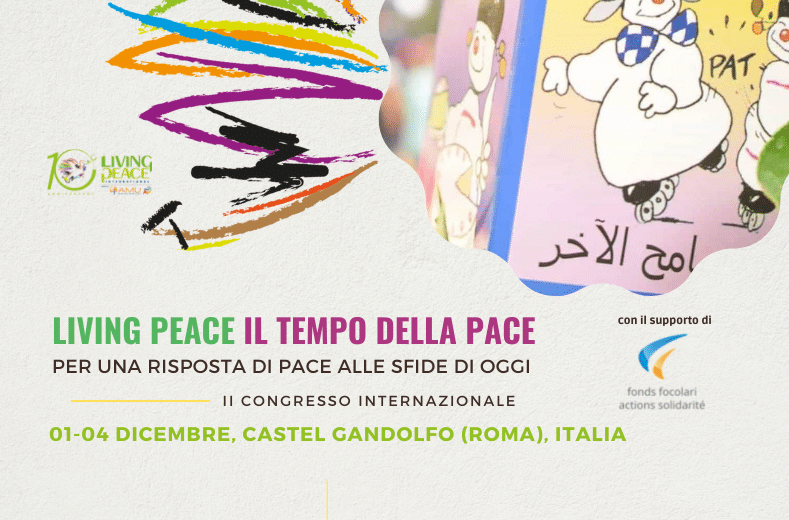 An international meeting to grow the Living Peace network and promote Peace.
The Time for Peace – For a Peace Response to Today's Challenges is the title of the 2nd Living Peace International Congress that will take place from 1 to 4 December in Castel Gandolfo – Rome.
An occasion for the Living Peace International network to meet, to get to know each other and to share, to take, all together, a further step so that the culture of peace spreads more and more.
The days together will include moments of in-depth study of useful methods and strategies, to be proposed in one's own contexts of life and work, the sharing of experiences and testimonies, and workshop moments.
It will be an opportunity for a unique intercultural experience and dialogue.
Below are the costs of the registration fee, which includes food, accommodation and registration, with arrival on 1 December for dinner and departure on 4 December after lunch:
– Italy, Western European COUNTRIES, Korea, Japan, North America, and Oceania – €191.00
– All other COUNTRIES – €164.00
– Commuters – Participation fee including lunches on 2, 3 and 4 December – €76.00
ONLY for those who require a letter of invitation, we ask you to fill in the pre-registration form here.
FOR EVERYONE ELSE, registration for the Congress will be open from 1 September to 20 November – We will give you more information soon.