Watch
Global Transformations and Europe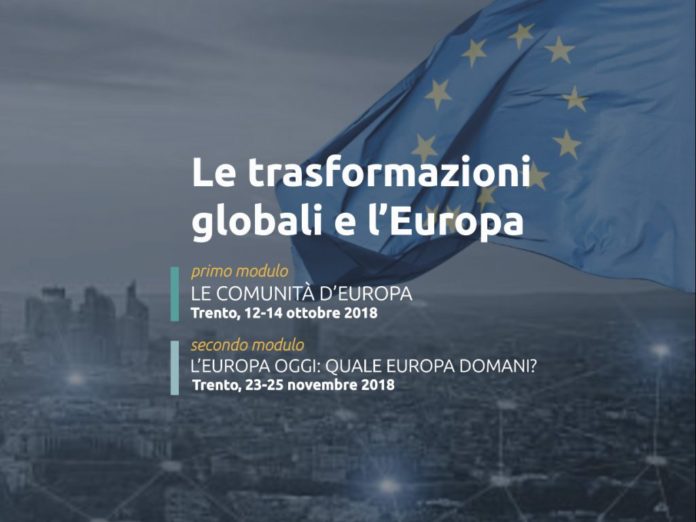 Course modules 2 and 3
Promoted by the Sophia University Institute in partnership with the Foundation for Sophia and the Autonomous Province of Trent.
In Trent, from 12 to 14 OCTOBER 2018 and from 23 to 25 NOVEMBER 2018.
The initiative coordinated by Sophia Global Studies continues, aimed at understanding the present and future of the European integration project, that is now being questioned by complex global and continental scenarios.
The two modules – "The Communities of Europe" and "Europe Today: Which Europe Tomorrow?" – will investigate the different situations that characterize Europe and how they are influencing the present and future of the European project, which has been going through a deep identity crisis for years. Lectures will go back to the legacy of Europe's founding fathers, examine the powerful changes the world is causing in the integration process and ponder the diversities that characterize the communities of Europe along a North-South and East-West direction. All the while, crucial issues will be analyzed such as integration, cooperation, the community, and the role of States and regions, without neglecting the most recent events and involving participants in the reflection on the future of the European Union.
The following experts and scholars will participate in the modules:
• Gianni Bonvicini – Former Head and Scientific Advisor, International Affairs Institute
• Esther Salamanca Aguado – Professor of International Law, University of Valladolid
• Daniele Caviglia – Professor of History of International Relations, Kore University
• Pasquale Ferrara – Italian Ambassador to Algeria, Professor of International Relations and Integration, Sophia University Institute.
• Marco Brunazzo – Professor of International Studies, University of Trent
• Giuseppe Zorzi – Senior Advisor for Euroregional Affairs, Autonomous Province of Trent
In addition to lectures by experts, interactive workshops will also take place, where participants will be invited to share their views, skills, and experiences.
Workshops will allow students to experience firsthand the relational methodology that is the hallmark of the Sophia International Institute; they will be coordinated by an interdisciplinary team that includes professors and experts in participation-based innovation.
This course is part of the "Europe in a Changing World" program, aimed at opening spaces of dialogue and reflection to think about the idea of Europe today. To this end, it takes the social, economic and cultural differences between European regions into account, explores the legacy that European culture still embodies in the world and addresses the feelings and challenges that global changes entail. The program is a platform that gathers scholars, professionals, and members of civil society, to achieve a fruitful exchange of experiences and viewpoints.
This module is meant for scholars, professionals, and primary and secondary school teachers. Educators and school principals can refer to the Educator Charter (Italian Ministry of Education, University and Research 170/2016).
15 grants are available to young people under 30 (to cover enrollment costs, room and board).
To learn more about enrollment and apply for grants please write to: globalstudies@iu-sophia.org