Workshop
A Powerful Place – PAS Welcome and Solidarity Center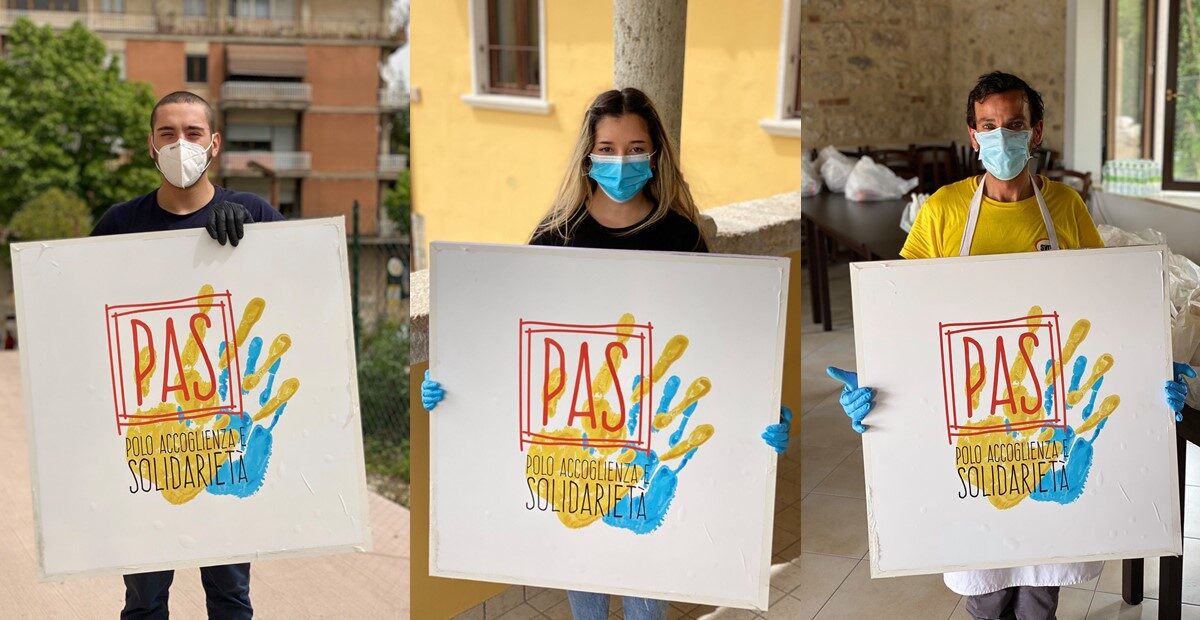 In the heart of Covid-struck Italy, the PAS networking team has recently found its first home in Ascoli Piceno, to better continue its activities …
"Networking" is a word you hear almost everywhere nowadays, in social, in political and economic contexts. Today it's practically a "must" not only to be able to do well, but to do well together. The old slogan "unity is strength" often proves to be true, as we see many associations and organisations across our towns and cities striving hard above all to "bring people together", sharing information and experiences which in turn improves the effectiveness of what they are all trying to achieve.
That's certainly the case in Ascoli Piceno, where in November 2019 a PAS (Polo Accoglienza e Solidarietà) Welcome and Solidarity Center was inaugurated. Its purpose, to provide a base for services and initiatives in support of those citizens experiencing economic or social disadvantage. How significant is this? And how does it contribute to effective networking?
 "Actually, it's essential", explains PAS President, Giuseppe Felicetti, "because PAS is not an end in itself, but a step along a journey we started five years ago, which has led us to a sharing of experiences and so to the creation of a network".
These days, it's not simple to define who are the poor and even harder to know how to help them effectively. It's a complex problem which calls for the adoption of integrated models of intervention, avoiding the pitfalls of a fragmentary or factional approach.
Aware and convinced of this, in Spring 2015, representatives of several associations began meeting together periodically to get to know each other and share experiences and common problems. Their esteem and trust for each other have become real bonds of a network to benefit the poor in their region. Other associations soon joined in and to date a total of 17 are actively involved.
The network is both diverse and cohesive, composed of regional associations and local branches of national organisations, religious and non, large and small, all working directly or indirectly to tackle social disadvantage, supporting those on the margins of society due to poverty or other difficulties, and those in need of care, of someone to listen to them, to make them feel loved and part of a community, to feel they are important to someone.
PAS can now cover all this, with its new refectory (kitchen, dining room, store and amenities), its day centre (with plans for showers, laundry facilities and access to other household appliances), a front office for the Centro Accoglienza Vita e Depositi (Lifestyle and Resources Welcome Center), a multi-purpose meeting room and health checkpoint.
The 2-storey complex was provided by the local Catholic Diocese. It spans 500 square metres in one of the most beautiful buildings in the town center. The way PAS works is by everyone sharing their own unique identity and making their own know-how and wealth of experience garnered over years available to each other. Particularly significant now, in a period characterized by the challenges of a massive health emergency that spares no-one.
In fact, throughout the most critical phase of the Covid crisis in Italy, 40 volunteers continued to work together in the distribution of 2,000 food parcels and over 4,000 cooked meals.
 "PAS today is a place of listening and discernment, which on the one hand delivers services, and on the other promotes a culture of solidarity, of fraternity, of volunteering and active citizenship", continues the organisation's President. "It's not a center for 'the poor', it's a place for everyone, young, older, families. It's a crossroads between the voluntary and public sectors. We work in strict collaboration with social services and the private sector. The most important thing for us is to be part of the network serving the social fabric of our city".
Throughout the Covid emergency, mask-wearing PAS volunteers have continued to be active. Emilio Bianchini, President of the Betania Association which runs the PAS day centre explains why they joined the network: "We believe PAS is the only real way to offer help in synergy to the most fragile and disadvantaged people in our city".
Elisa Floridi, of the Italian Red Cross adds, "PAS promotes great social change, and because we work in partnership, our associations are not entrenched in our own settings, but rather, like communicating vessels, we put our strengths and resources in communion. This leads to a change of mentality, which in turn, through the power of our relationships can transform charitable handouts into real welcome. This is what has prompted us to design a solidarity-focused center, one in which community welfare does not substitute public or private health care, but rather accompanies the most fragile in our society, to help them feel at home".