Workshop
Consume responsibly to build a united world
Have you ever thought that when you go shopping at the supermarket you are also carrying out a democratic act?
Yes, democratic. It's really a form of economic democracy that rewards and supports the work behind a business.
Prepare your cart! Let's take a tour of an incredible laboratory of responsible consumption: Into the LABel.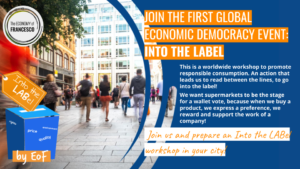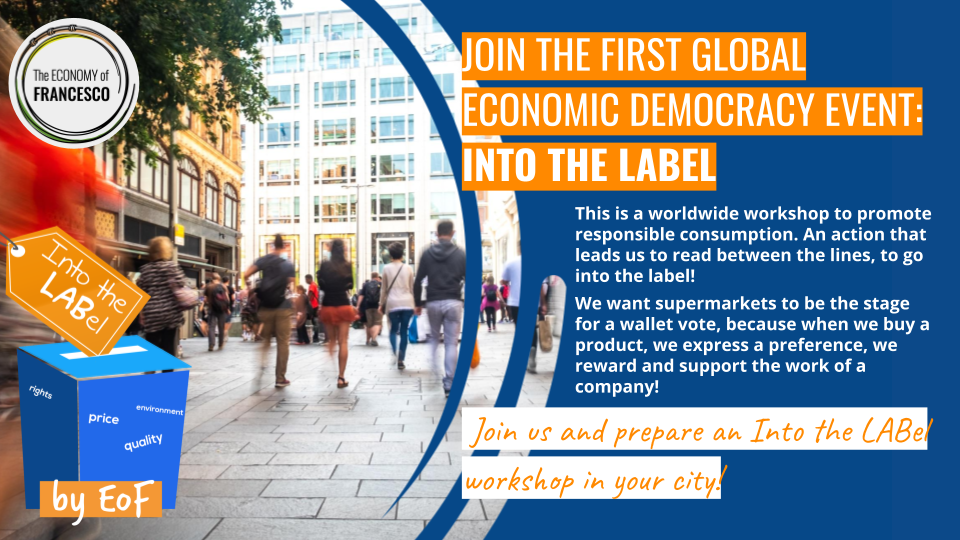 Into the LABel literally means "inside the label". Why this name? "We pay more and more attention to the labels on our food and cosmetic products to know their calories and chemical properties, but we are less interested in the moral labels of the goods, the sugars of justice, and the ethical calories", explains Luigino Bruni, professor of economics and scientific director of "The Economy of Francesco". Professor Bruni was the promoter of this initiative that involved thousands of people and pushed them to make more conscious and ethical purchases, through a thorough reading of the product label and the search for information on business practices.
How did this start? "In Italy, starting in 2012, a series of events organized in front of supermarkets was launched, in line with what was a trend of the moment: the flash mob, but of ethical purchasing, therefore called CASH-MOB", says Luca Guandalini, a young economist who has participated in several Into the LABel and is now working on the preparation of a global Into the LABel together with The Economy of Francesco movement.
Read also: "A new economy: the youth's proposal"
"We are looking for youth groups to advocate for responsible consumption and economic democracy events, aiming to make an impact and share the experience with the world during EoF's global event on October 2," adds Luca.
Yes, because talking about responsible consumption is not something that concerns only economists and entrepreneurs, but all of us. "Responsible consumption is a way of life, a human right, a possibility and a choice of respect for all human beings, nature and the space in which we live", Catalina Hinojosa tells us. She is a young Ecuadorian, ambassador for a united world and participant of The Economy of Francesco.
Her work for EoF has focused on agriculture, indigenous peoples and responsible consumption. She also tells us what aspects she focuses on when making a responsible consumption choice.
"I ask myself some questions, such as, do I really need this product? Does it come from fair trade? Did the workers receive fair compensation? Where and how was it produced? Is it sustainable: if it is biological or organic, what production method was used to make it? Is it socially and economically ethical?"
Through these questions and many of the answers that the flash mob offers, Into the LABel reminds us that we have the power to turn shopping into an important social action, into a profound moment of active citizenship.
According to Catalina, the exercise of responsible consumption is also a concrete way to "live and build a united world, because it means thinking not only about myself, but about the community. A collectiveness formed not only by human beings, but also includes nature. Responsible consumption allows us to build much deeper relationships, because it makes us discover what the other person is experiencing, their suffering, and this generates empathy and unity with the other person".
One of Into the LABel's main slogans is "vote with your wallet," because, in effect, it believes that with purchases and money spent on a particular product you support the practices of a business. With Into the LABel, citizens become the protagonists of an experiment of economic democracy. They make consumption decisions based not only on price or quality, but also on social value.
Would you like to organize one and join the Global Responsible Consumption Lab on October 2?
Write to: community@francescoeconomy.org
In the meantime, here's a video tutorial we've prepared at United World Project to show you how it works: