Workshop
Cuba, the Economy of Communion to "ignite" ideas
Lumen is one of the small companies that participates in the Hub-EoC of Cuba, born with the idea of a person -centered economy.
Arianna and George came up with the idea of Lumen because they were searching for an activity that could provide them with an economic income, but that would also be "special". Hence, the idea of making lamps with recycled materials to "illuminate" our hearts as well.
"We didn't know how to start, as we had a lot of general information that was not concrete. After having participated in an Economy of Communion meeting, we immediately chose this as our model, because it was not just about having a store, it was a lot more".
"We had created this project thinking of how we could have an income, but once while strolling the streets we realized that Havana was in the dark, and we asked ourselves why not make different lamps, that could illuminate the city more? With the EoC, the perspective of the enterprise completely changes as it is no longer just about making money, but putting the person in the center, the idea was to create a lamp thinking of the other".
"One of the things we considered apart from working with recycled materials was to convey a message and, for this, we immediately took care of the communication. We had a friend who is a play writer to whom we asked to review our posts and our material. He liked the idea and was immediately passionate about it. Then, when with the pandemic he couldn't sustain himself with the theater, we asked him to work with us on an ongoing basis".
He updated himself on the ongoing writing and communication techniques and today, apart from working with us, he is sought by many companies. Not being able to follow all of them, he wanted to create a training course for other people, providing them with a new job opportunity.
In these four years Arianna had to learn a lot on the lighting and George has gone so far as to building some of his own instruments because it is not easy to find suitable ones for their creations in Cuba.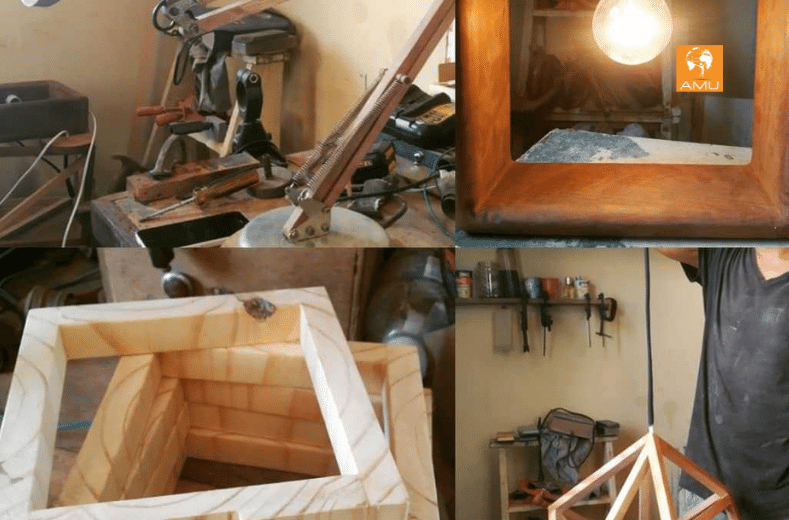 "The good news is that these four years were intense but fruitful. We wanted to do something that we liked, and here we are. With passion and creativity, we can make many things. This is what we celebrate most today".
"One of the reasons that attracted us to the EoC is that you feel that it is part of you. From when they have spoken to us about the EoC, we understood that we could identify ourselves with something we felt and that first we didn't know how to express, the simple desire to be able to help also the people without receiving anything in change, to see others happy as we are happy. Now we can identify what we do with this name, Economy of Communion".
Sustain the projects and the Economy of Communion in Cuba.
Source: