Workshop
Dare to discover, connect and activate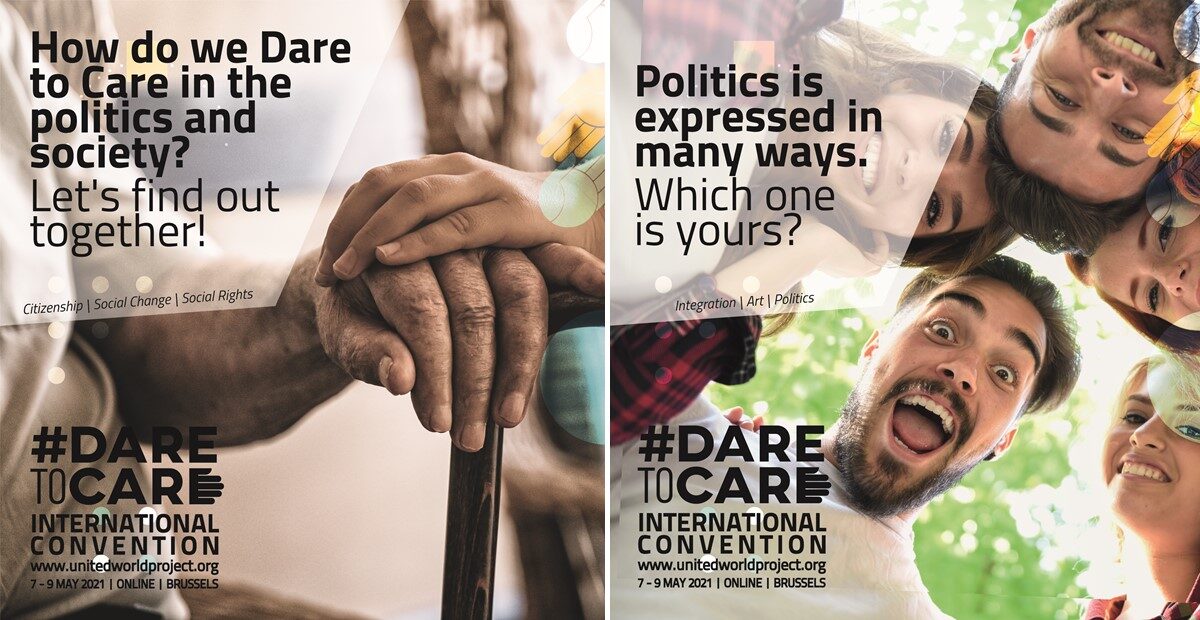 The United World Week 2021 is just around the corner and with it, the preparation of many initiatives that seek to give value to the commitment of so many people around the world in building a more united world.
One event in particular has made the United World Week a little longer, but it's worth it! From May 7-9, the #DareToCare International Convention will take place in Brussels, Belgium. Here's what you need to know about this convention:
Let's start with some general facts: the convention will be headquartered in Brussels, but everyone will be able to follow the three-day program digitally. Without spoilers, we can tell you that each of these three days has been given a focus word: Friday 7 "Dare to discover", Saturday 8 "Dare to connect" and Sunday 9 "Dare to activate". In addition, many initiatives, activities, and concerts will be taking place throughout Europe, highlighting the convention.
Conleth Burns, a young Irish lawyer, is part of the organizing team of this event. We have interviewed him to share with us, first of all, how the idea of the event was born: "Several years ago, this tradition began, in which the central event of each UWW is celebrated at a different continent. Among the most recent is the May 2019 event in North America, when the #NoOneInNeed campaign was launched. Then South Korea was preparing to welcome us to Asia when the pandemic struck last year. But like Korea last year, we decided to move our event online due to the Covid-19 restrictions, so Europe will be welcoming the world online over 7th, 8th, and 9th May", says Conleth, who stresses the idea that the event can reach even those who have never heard of the #DareToCare campaign before, bridge the gap between citizens and politicians and present ideas for policy change to EU politicians.
An ambitious program, but that's what it's all about, to dare what seems impossible. To dare to care, even in spaces that seem hostile and unreachable, such as politics. Indeed, there have already been difficulties encountered along the way. "We are a team from across the whole continent of Europe working with stories and experiences from all over the world which makes organizing complex and time-consuming. But we have felt throughout this time that 'dare to care' is not only a distant campaign that we are involved with, but a personal commitment that we all have to make every time we meet", says Conleth.
But at the same time, there are already fruits and joys that are being experienced. "This event will start and finish in Brussels in the political district where Europeans work together politically on a daily basis. Being there tells a story of the need for the idea of a 'united world' to be developed politically. We hope that this will be an important step towards further work and political engagement around the construction of a more united world. This event will amplify the idea of care as an idea that can change the way we think about political and societal change. We think there is something really powerful in this", concludes the young Irishman.
Interested in learning more about the program?
This is what the central organization of the event tells us:
Friday will be about discovering more on what #daretocare is all about – We'll look at how #daretocare can apply to various societal challenges – economics, migration, refugees and integration, loneliness. We will also look at how a new politics and citizenship of care can be practically brought about through workshops and discussions on prosocial communications and the arts as instruments for political change.
Saturday will be all about connection – Many local events are being organized all over Europe with local communities across the continent creating spaces for political action and discussion on how we can implement the vision of #daretocare at a local and national level. Gen Rosso will also be putting up a concert on Saturday evening.
Sunday will be about activation – launching the next phase of 'dare to care' for people and the planet. We'll have an online launch followed by a series of workshops and webinars to get the ball rolling with this new and exciting phase of #daretocare. We have more exciting details of the program that we'll let you know in the days leading up to the event.
Remember to keep an eye on our social media and our website!