Workshop
Food2connect: when flavour is integration
The unique project of the Youth for a United World of Graz, Austria, that puts fraternity… on the table…
Juan Camilo Poveda is a young Colombian, only 31 years old with very clear ideas. He has travelled around the world for a while and then, out of love, he went to live in Graz, Austria. He has experienced first-hand what it means to leave one's own country and find oneself in a totally different culture and language, which make daily life difficult and sometimes force one to a certain solitude.
That is why he is the best person to talk to us about Food2Connect, a unique experience promoted by the Youth for a United World of Graz. Juan Camilo is one of the "coaches" of the project, within a team of five other people. He has seen the project come to life and sees its horizons.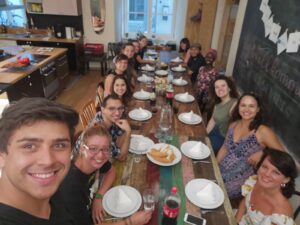 "Food2Connect is a project conceived by Youth for a United World, and supported by the European Solidarity Corps, a European project that promotes integration and multiculturalism. The project was born seeing in front of our eyes the mistrust of society towards the foreigner, especially migrant, which in Austria is very strong. In this country there is respect for everyone, there is tolerance even for those who are different, but there is a lack of warmth, of going to meet a person to create a relationship".
Juan Camilo tells with passion the ideas about respect and availability towards the other that the youth had shared, looking for a way of dialogue that would bring everyone together, in such a delicate situation: in fact, Austria is located just north of the Balkan route, and is the gateway to Europe for many migrants from the East and from the Arab world.
What do we all have in common to start a dialogue? Nothing simpler: food! Meals and dishes, culinary traditions, are often used as a basis for social relations and in the development of one's own culture. It's enough to think that when friends get together, they do it to "have something together", whether it's to drink or eat…
"It was a brilliant idea: we took about twenty people, all youth, who were half Austrian and half from other countries (from Eastern Europe, the Arab world, Africa and Latin America) with different stories of migration behind them. Thanks to the economic support of the European project, we set up a large facility to cook and to share the flavours of our tables, organizing six workshops where we could cook together the dishes of our own countries and of the countries of the other, became a unique opportunity for dialogue and fraternity".
The interesting thing in fact is this: the workshops were organized for small groups, where for 2-3 hours each participant had the opportunity not only to introduce the culture of his/her country through the flavours of the table, but also to share his/her personal, family, and migration history, linking that particular dish to a narrative made of flesh and blood, tears, laughter, failures and many resurrections.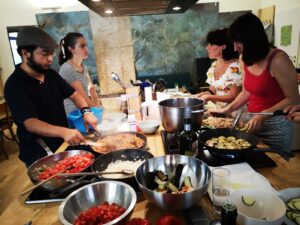 "The possibility of chatting while cooking is extraordinary, you can make people understand what a dish or an ingredient means in everyone's story, you create something that feels like family, that breaks the barrier of indifference and fear of the other person, who in the end, just like at home, around the same table, sits, eats with you, and shares life with you.".
Juan Camilo with all honesty does not hide the difficulties that have arisen with the pandemic, which has moved the workshops to social networks, transforming the project, for a period, into a cooking show, where maintaining relationships has not been so easy.
"The risk of giving up was very strong, and yet in those months we received so many photos on social media, showing our participants finding each other, online or in presence where possible, even beyond the time of the official workshop, to continue to get to know each other between recipes, inviting each other perhaps to each other's homes at particular times, to strengthen a bond. And I assure you, that when we saw a young Austrian going to the home of a young Syrian to learn more about his life, and continue to prepare recipes together, for us it was already a victory that even the pandemic, in its dramatic nature, has brought.".
All of these youth, in one way or another, have experienced difficult situations due to language, social rejection, lack of work, and finding a group where they feel good and feel like a "team" certainly helps to change things.
"I'll tell you more: there's a very broad fraternity background behind this. The experience we've had is of a certain reciprocity coming through: Austrians tend to open up when they feel they are in a safe place, in a space that is for them: working and cooking together has created this space, taken away a lot of rigidity, created family. On the other hand, for those who come from outside, returning to eat something of their own country, returning to feel certain flavors, has helped to feel better, to give a sense to the pain of being far from their origins, from their own country, they have given a hand to each other, a mutual care that can still bear much fruit".
Juan Camilo's words are not said randomly: depending on how the pandemic situation goes, it seems that there could be a chance to conclude the workshops, with the sixth appointment in attendance, with an upcoming "Festival" in August, and who knows, a return to the kitchen for next season as well.