Workshop
"From a chain of production… to a chain of solidarity"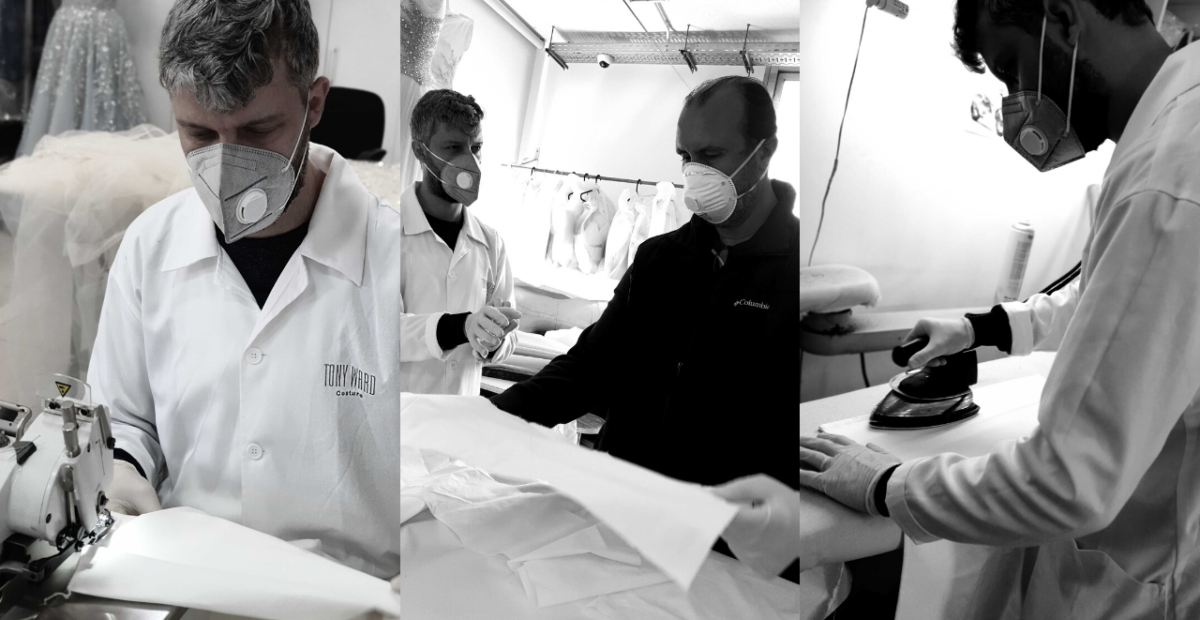 On March 21st, the Lebanese stylist, Tony Ward, reopened his boutique in Beirut during the Covid-19 emergency, transforming a studio that normally produces high fashion clothing and wedding dresses, into a factory where hospital bed sheets and medical protective suits are being made freely. "From the production chain to a chain of solidarity," this defines the operation. He shares the reasons why he made his choice.
When did you stop the activities in your atelier?
We stopped the activities in our boutique on Friday the 13th of March. It was a quarantine established by a government decree, so we had to close the studio to respect the law and most importantly, to protect ourselves and for the well being of our employees.
Have you had any changes in the orders of wedding dresses?
Yes, we did have some cancellations of orders of wedding dresses, especially in the USA, in Doha, in Riyadh… Some brides are postponing their wedding and others haven't decided yet. We're expecting some more changes to come.
Why did you decide to start the production of sheets and protective suits?
On March 21st, we heard about the lack of needs of Hariri Hospital and other hospitals welcoming Covid patients; we got in touch with the person in charge and they told us exactly what they needed, we purchased the materials, did the trials and we were officially rolling a couple of days later. We produced bed sheets, masks and protective suits for the hospitals in need.
What are the fabrics you sew to make the sheets and the protective suits?
For the bed sheets, we went for a 60/40 cotton that is easy to clean several times and that can withstand temperatures up to 90°C. It took us around 3 days to source this material as it had to be approved by the hospital. As for the protective suits, it was more complicated than that as we had to do many trials with disposable materials, cotton or even satin and sew it in a way that it doesn't penetrate the tiny particles of Coronavirus. This too took a couple of days to be approved.
How many people work? How is the atmosphere in your atelier?
Usually we're a team of 140 people but for this operation we were not more than 10, we made sure to space them out 2m apart and took strict safety measures for their well-being and to respect the product they're producing. Of course, we didn't oblige anyone to come but those who did came as they felt the need to do something good during the crisis, then one of our employees posted the video on her social media platform and just like that it went viral!
Could you tell us some impressions of your employees?
My employees were like the hidden shoulders in all this, they were my angels helping me do this while putting themselves at risk; either by coming to the Ateliers through walking or by car and being stopped by the police… We then got a legal document from the hospitals showing that we are offering this service for them. My employees were happy as they feel what they've done is valuable for the community.
What was the response of the hospitals you supply?
Hospitals are overwhelmed with everything happening to them, we had many other hospitals calling us too, some private ones but we couldn't meet everyone's needs since this whole thing was completely financed by us.