Workshop
Kenya: That different culture that made me fall in love. Isabele's MilONGa Volunteering experience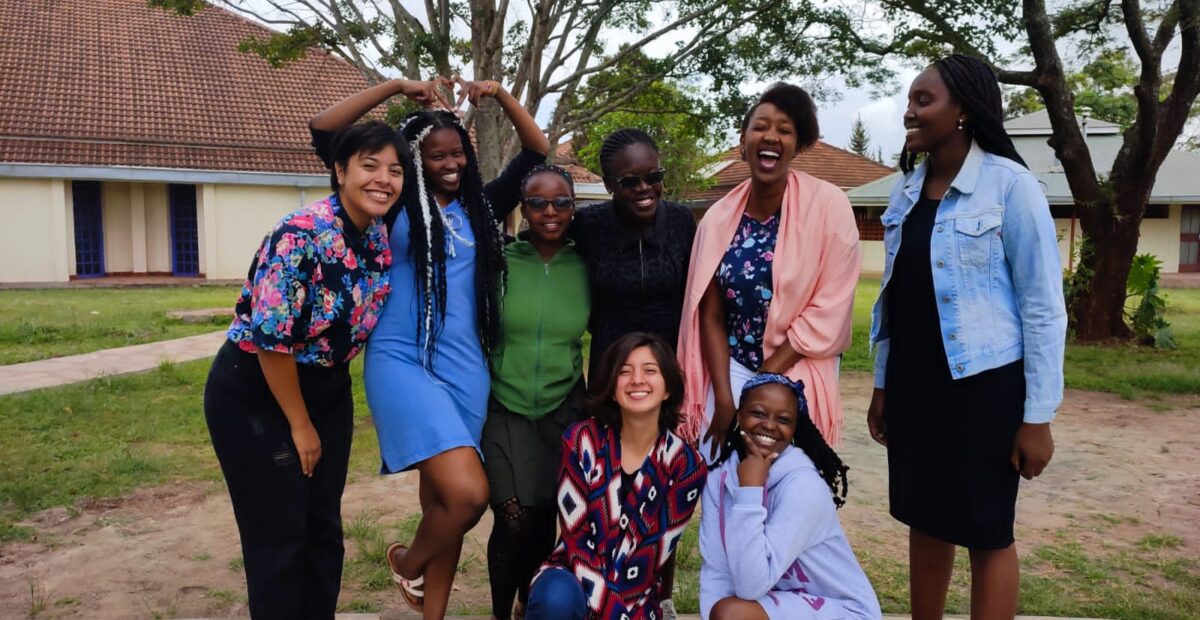 By Janeth Cárdenas Belmonte
Isabele Amorim tells us about her "journey" from Brazil to Kenya, to live a volunteering experience that makes her discover the beauty of diversity and of dialogue amongst different people.
Isabele Amorim de Deus Pires is 24 years old and is originally from Sorocaba, in the state of São Paulo, Brazil.
She studied psychology, but teaches English from six years as studying languages is one of her favorite hobbies, a passion that makes her realize that the world is something more than what she sees in her city.
These are pandemic times, and this desire grows even more, when Isabele decides to start living some volunteering experiences in her city, responding to her desire to give more to humanity.
Isabele knows milONGa, the international volunteering program centered on three pillars: social service, interculturality and global citizenship training. Her journey with milONGa started with a volunteering experience with the Focolare Movement in Brazil: it is there that Isabele feels she can put herself at the service of others, even in a country far from her culture.
"I lived my volunteering experience in Kenya" – she narrates – "I lived there for six months, working in three different entities. I passed the first three months in the Ya Ufariji Family, a home for abandoned youth. Then, for the next three months, I worked for two educational projects: the Magnificat Project and the Rainbow School. Kenya gave me the possibility to combine psychology and teaching languages, and this made me feel at ease since the beginning of the preparation with milONGa".
For Isabele, Kenya is not only geographically distant from her Brazil, but also different in traditions and customs, yet with an immense richness. However, she doesn't have great expectations because in her country, as in many other parts of the western world, talking about Africa means talking about stereotypes; one thinks of Africa as a whole, leaving aside the details and different realities lived by each country.
A few days before her departure for Kenya, Isabele shares a message in which she assures she feels accompanied by her family, her friends and the entire community of her city; she knows she's not leaving alone, but carries the support and the accompaniment of who lived this process of preparation for an adventure till that uncertain moment, full of challenges but also of learning opportunities, with her.
Her first encounter with the African country occurs through a tour of Nairobi, during which she observes the consequences of inequality. Even though similar problems are faced in Brazil, what Isabele sees during that first journey in the city allows her to understand how the economic divide affects body language.
"I understood that the social conditions can highly modify one's behavior, from the way of managing finances to studying a subject, serving food on a plate or expressing oneself through body language. When I noticed this behavior, I decided to put aside my habits to embrace that that was now my home so that no one would feel uneasy".
This reality makes her curiosity and the desire to deeply know the culture in which she lives in grow; she takes advantage of each occasion to establish a profound dialogue with the people she meets, she develops such a level of empathy, for the experiences and stories that she listens to, to realize that she would have not changed the world alone, committing herself with greater strength and determination to teamwork.
One of the strongest experiences is that of realizing of the way in which the adults relate to children and adolescents. Being used to a gentle, respectful, loving and a constant listening behavior, seeing the rude and at times violent way in which the guest children are treated makes her uneasy. Isabele tries talking and sharing her impressions, so much so that some behavior changes for the better.
"Kenya has made me a stronger person" – concludes Isabele – "I fell in love with a country and a continent that today I strongly defend. I always say that I lived in Kenya, an East African country, in a way that people understand that Africa is an immense, beautiful and rich continent…… Now I love even more the diversity of my country. I don't want to be a person who's always criticizing the problems, I want to be an active person committed to change to improve this world".