Workshop
Paano na ang pasko nila? (What will their Christmas look like?)
"Paano na ang pasko nila?" literally, "what will their Christmas look like?". The 2018 edition of the "Noche Buena Project", promoted by the Young People for a United World in the archipelago of the Republic of the Philippines, began with this question. The project consists in bringing the spirit of Christmas also to families in need.
"Our thoughts this year were especially with the survivors of the Ondoy floods and typhoon Yolanda. So, we found our way to make them experience that God is Love, despite the situation in which they are," explains Cat, one of the Youth for a United World involved in the project.
With only 500 Filipino pesos (equivalent to 12 dollars or 10 euros), a family living in poverty has the opportunity to celebrate Christmas with a box of "Noche Buena", i.e. Christmas Eve. It contains the food of the Philippine Christmas tradition: ham, cheese, pasta and other gifts, anything that otherwise a person or family in need would not be able to get.
"This year, we hope to reach 1,700 families. This is our tenth year since we started, and we would like to bring the best Christmas dinner to as many poor families as possible: we will go to prisons, public schools, parishes, "Bukas Palad" centres, indigenous communities, mental hospitals, all those places where the spirit of Christmas is really necessary," goes on Cat.
The Noche Buena Project involves not only young Noche Buena box distributors but also countless donors, business partners, both large and small, fundraising volunteers and partners in local communities.
"In this project, many have found a platform that allows them to step out of themselves and to share with others. Many save on their wages to sponsor a family's Noche Buena. Now it's a global network of love that comes and goes… a way to bridge the gap between those who have and those who don't," says Cat again.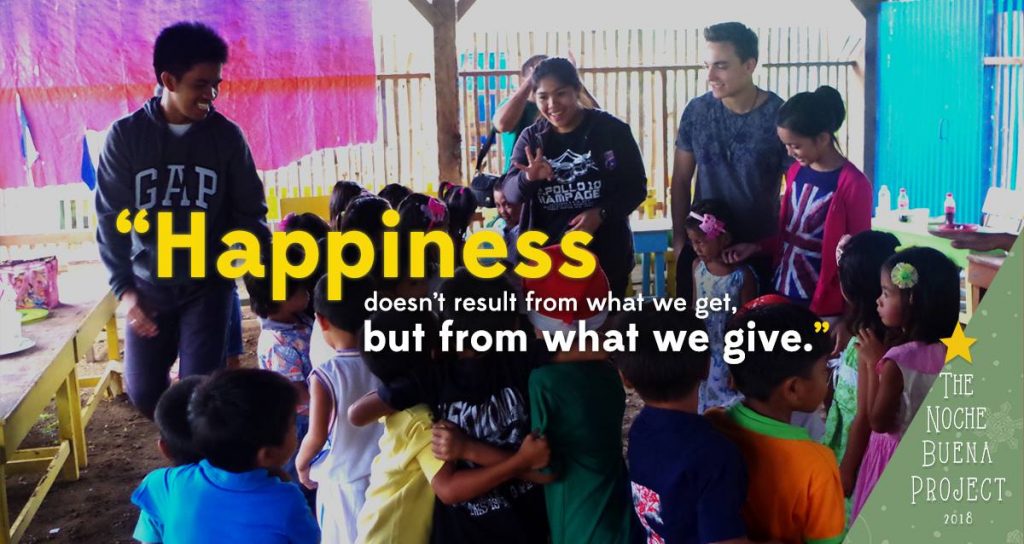 In the long Philippine Christmas season, the longest in the world, begun in September, the spirit of Christmas has already borne fruit, at least in the hearts of the animators of the project. One of them tells us: "Christmas has always been my favourite season of the year: Christmas carols, family celebrations, the exchange of gifts! It's really the most beautiful time of the year, when people are cheerful, kind and generous. But if we get out of the comfort of our homes, we realize that, sometimes, Christmas is a luxury that not all Filipinos can afford. For me, the Noche Buena project is not just about distributing food boxes to those most in need; it is an opportunity to share the spirit of love brought by Christmas, where people can meet for a simple feast on the eve of Christ's birth and be grateful together for the blessings they have received or are about to receive.
Or, as another says, "It is not just the food we bring but solidarity, hope, faith; the same message that Jesus brought to earth and that we share with the hundreds of recipient families, who become part of the Noche Buena Project."
So, all that is left to say is… Maligayan Pasko! Merry Christmas!