Workshop
Pills of hope: the silent transmission #2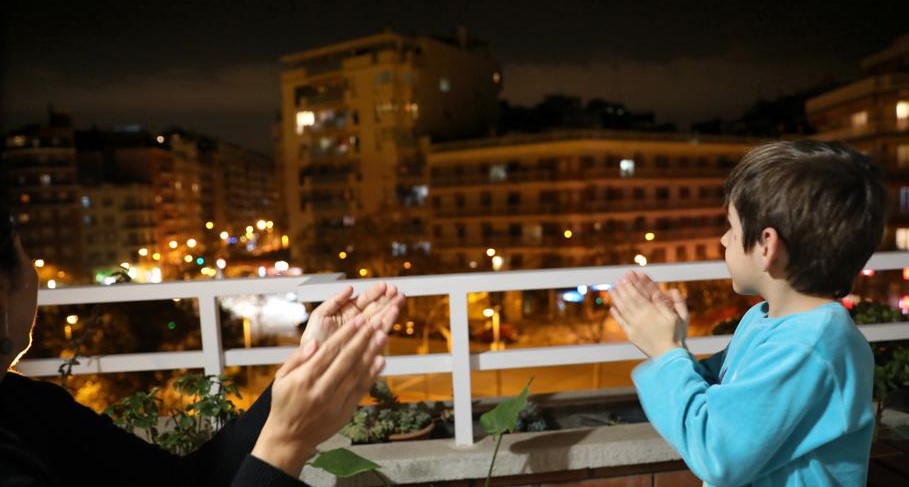 The United World Project team continues to tune in to initiatives of solidarity which are generating a global transmission of hope in the midst of the pandemic, listening to the "growing forest" (from the quote: "a falling tree makes more noise than a growing forest").
The Coronavirus is continuing to affect our world, with a rising number of cases, new infections and also sadly of deaths. At time of posting, the total number of people with the virus has reached nearly 1.6 million, with almost 97,000 deaths reported worldwide. Foremost in our minds are all those suffering, those who are ill, their families and carers, all who have lost loved ones, and all who are struggling.
But we don't want to turn the pandemic narrative into a horror film. As British journalist George Monbiot wrote recently in the Guardian newspaper, «Instead of turning us into flesh-eating zombies, the pandemic has turned millions of people into good neighbours».  We agree with him in recognizing that something new is emerging, something we were missing before, perhaps, to use Monbiot's words, "the unexpectedly thrilling and transformative force of mutual aid".
Norfolk (UK) "Not much you can do to stop me now"
David Tillyer works as a paramedic for the East of England Ambulance Service in Norfolk, UK. On 3 April, going to a supermarket at the end of a 12-hour night shift, a series of events took him by surprise as he joined the queue at one of the checkouts.
First of all, the couple in front of him moved aside to let him pass forward. Then the people ahead did the same, and everyone started to cheer and clap, thanking him for his work. In this way, he was propelled to the front of the queue. When he got to the checkout, a lady ran up and swiped her card on the reader to pay for his shopping. David tried to say "that's kind but you musn't", but she said with a smile, "not much you can do to stop me now".
Humbled and grateful, the paramedic posted his thanks on social media, explaining how all these people had raised his morale. His post exploded and was shared more than 88,000 times.
Source: facebook.com
Bergamo (IT) When you give what you get, and get what you give
Sameh is Egyptian and has lived in Italy for 10 years. For the past six years he's been selling fruit and vegetables at Canonica d'Adda, in the province of Bergamo in Lombardy, one of the areas most badly affected by Covid-19.
He put a sign on one of his stalls which read: "10 years ago you welcomed me, now I want to thank you. All will be well! If you are in need, take any of the fruit or vegetables on this table free".
Sameh explained that he had been made to feel welcome from the day he arrived, and so now he is happy to be able to give something back to the community, through his shop. «In these very hard times, we must help those people who find themselves in difficulty. I'm doing this as my way of saying how much I love Italy and to give back something of what I've received».
Source: Ansa.it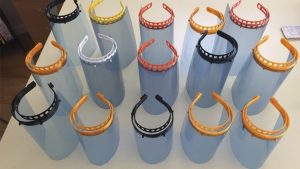 Argentina. 3D printers serving health care
In Argentina, a large number of businesses have redeployed their 3D printers to produce hospital supplies. Father and son team, Guillermo and Gerónimo Cabrera, who run "Te doy una mano" a social enterprise making prosthetic limbs, has produced over 60 "Venturi valves", essential for ventillators, free of charge. They've also delivered plastic masks to Lavallol Hospital in Buenos Aires.
 The "Imprimiendo Ayuda 3D" (Printing 3D Help) project emerged from a Facebook group of printers who took European models of easy-to-make masks and started production, giving the masks to health professionals and security officials to protect them when they go out to work.
Source: tn.com.ar and telam.com.ar
Coventry (UK) "I gave them everything"
In the city of Coventry, in the English Midlands (near Birmingham) a restaurant owner and her staff are tirelessly working to feed 8,000 National Health Service workers.
Kelly Iles experienced a moment of real desperation when her restaurant, The Barn Kitchen, had to close in the national lockdown. Stocked up with products just before the announcement, she didn't know what she was going to do. Then she decided to focus her energies to give a hand.
Together with her staff, who joined in without pay, they rolled up their sleeves and prepared parcels of macaroni and cheese, penne lasagne, sandwiches, chocolate brownies and scones with jam and cream. They kept going until they finished all their supplies, even emptying the freezers. "I just gave them everything in the end", she said. "Because every time I arrived they were so grateful. The nurses were doing 15-hour days with no breaks."
They went on to open a "crowd fund" so people could donate money to keep the action going. They quickly raised another £3,500. Another firm offered canned drinks, and a local furniture business offered their van to deliver the food to three different hospitals in the area.
Source: coventrytelegraph.net
Spain. Hotels to shelter victims of domestic violence
A royal decree has been issued in Spain to guarantee protection and assistance for the victims of domestic violence. Some hotels have been made available for those who need an "alternative safe house" in this period.
«The victims are particularly vulnerable people who are living in situations of domestic isolation, because of  being forced to live with their abuser, which puts them at increased risk».
The royal decree guarantees other essential services, such as support for victims of sexual exploitation and trafficking.
Source: 65ymas.com
Buenos Aires (ARG) Delivering daily meals
Silvina Chemen, Rabbi of the Bet-El community in Buenos Aires tells us: «When the cold weather arrived, we started going out with hot meals for those in need in our local area».
The volunteers involved (members of the Jewish community and the Focolare Movement) wanted to carry on even after the alarm about the epidemic spread and halted many activities.
Now that Argentina has declared a compulsory quarantine, they have had to suspend their action, but the volunteers have not dropped their commitment. The community continues to help those in need, using virtual means, collecting funds through the website betel.org.ar/unplatomas
Tuscany (IT) Wine-makers are here to help
Morellino di Scansano is one of the most famous doc wines from Tuscany, Italy. The producers are making their own contribution to help in this pandemic. The wine-makers of Cantina Vignaioli di Scansano have launched a fund to support their local hospital, Ospedale della Misericordia, through the Gofundme platform.
Earlier, the wine company donated €10,000 towards an ultrasound machine for the hospital's radiology unity.
«We know how important the hospital's function is for the entire territory. That's why we wanted to help the Misericordia Hospital in Grosseto by launching this fund-raising campaign», declared company head Benedetto Grechi.
Source: grossetonotizie.com
VIPs, celebrities, balconies and crowd funding
Today our real VIPs are doctors, nurses and hospital personnel, supermarket staff, food and essential product manufacturers, garbage collectors, members of the security forces, all over the globe. They are the ones working so the rest of us can #StaySafeAtHome.
Many celebrities, athletes, singers, sport associations, continue to fundraise, donate and help create conscience around Covid19. Hoewer, today we highlight an initiative by US actor John Krasinski. He started a streaming show from home called "Some good news", which has been enthusiastically received on social media.
We are certainly not alone in listening out for the growing forest.