Workshop
#Pillsofhope that dare to put care at the centre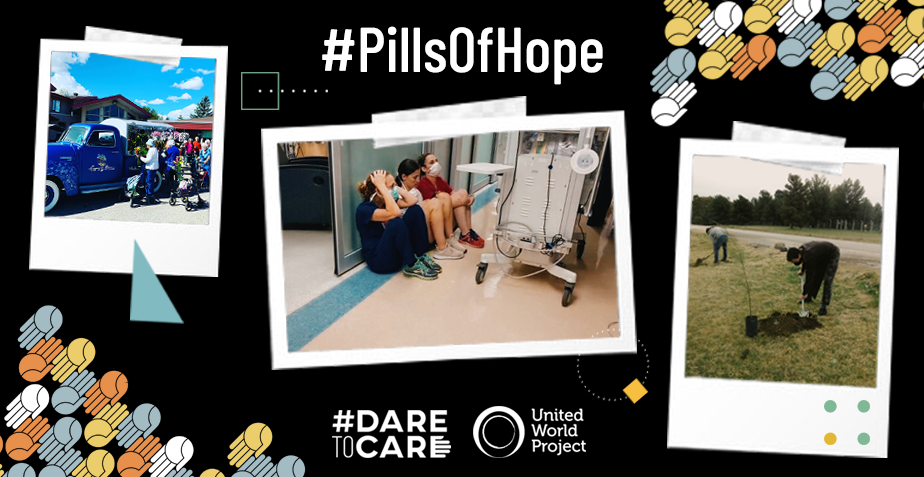 We resume the initiative of telling positive actions,"pills" of hope from different parts of the world, which show how, even in this difficult context, solidarity continues to be contagious.
Since March 2020, we at United World Project wanted to tell positive news related to COVID-19 crisis.
There was so much pain, uncertainty and isolation that we felt it important to focus on the actions that many people have done and are doing in different places, trying to generate a positive "contagion", to help, to give joy to those who suffer the most, to provide a feeling of proximity at this moment of "distancing".
It is impossible to count them all, because it is even impossible to know all these actions. Many of them do not reach the media, and others happen in silence… the important thing is that they exist and multiply, and for this reason, here are some #pillsofhope we have collected during the last few weeks.
Canada. The florist of Alberta
Residents of Wildrose Manor nursing home in Grande Prairie received a very special surprise on Thursday afternoon from the Gypsy Bloom Flower Truck stopped in front of the building, courtesy of Rene Blais and RB Oilfield Hauling.
The truck made the stop after Rene Blais purchased an entire truck load of fresh cut flowers for the residents of a seniors' home to pick a bouquet for their rooms.
The owner of the truck, Joline Willsey, says Blais approached her a couple of days before about buying up the truck load of flowers to give away. "Just the smiles on their faces said so much. They were so grateful and thoughtful, and just so happy to come out," said Willsey. "I mean, they don't really have much interaction with the outside world. Just seeing what flowers they were choosing, and them putting it all together, it was just such a special moment."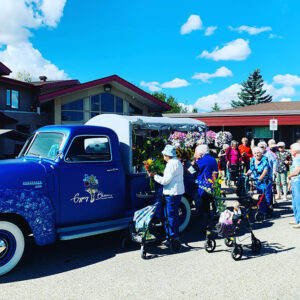 Source: Everythinggp.com
Australia. The "caring calls" in the libraries of Melbourne
In Melbourne, Australia, the staff of Yarra Plenty Regional Libraries (YPRL) was invited to participate in the 'YPRL Caring Calls' programme, and they were given a list of the senior library members with their phone numbers. Thus, they started calling these members and checking their status during the pandemic. They contacted thousands of senior citizens to provide information about their local community, to help them access library resources from home and to reduce social isolation during the pandemic.
One of the library visitors wrote: "Thank you for helping a 93-year-old lady like me download my first eBook to my phone", while another: "I am very grateful for the call and hope everyone is well and safe".
Source: Yahoo.com and @goodnews_movement
India. Deep Chand, a hidden hero
This is the story of Deep Chand and many other hospital "assistant attendants" in India. They are unsung heroes who don't save lives, don't treat coronavirus, don't give medicine, but do what doctors are unable to do these days because of the overload caused by the pandemic: they pay attention, and take personal interest in the patients' relatives.
It is difficult to summarize this story in a few words (we suggest you go to the website and read the whole story) and it may seem trivial, but the extraordinary thing about Deep Chand is the ordinariness of his daily life.
The young people on duty, such as Deep, assist doctors, nurses, patients, they clean, bring water… but above all, they also listen to the families: they give words of encouragement, information, they offer their time. They do it with care, because they know that doctors cannot do it these days: "They were so busy, they somehow managed to speak to the families of serious patients once a day. It's nobody's fault – none of us were prepared for this kind of rush," he says.
Source: bbc.com
Argentina. Synergy in Bahia Blanca
Bahia Blanca, in southern Argentina, is a very windy city where the trees help to form "natural barriers" against the constant wind, so that the houses can be kept warmer and have protection from the Sun in summer. However, it is very difficult to get so many trees for such a demand and even more so in the current situation.
Faced with this "need" highlighted by the local community, Martin Ramos has seen an opportunity: someone in social networks asked for help for a university project that consisted of planting trees in pots, taking care of them and then planting them in the given places.
From this necessity, the opportunity presented itself: Martin offered himself and quickly his neighbors joined in as well. In a very short time the area was covered with trees and people themselves undertook to water them until they become independent.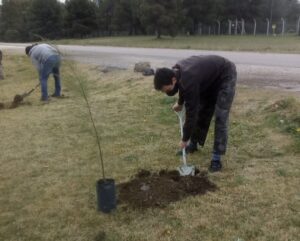 United States. The heroes of Louisiana
A few weeks ago, Hurricane Laura crossed Louisiana, paralyzing the city of Lake Charles. ICU staff at Lake Charles Memorial Hospital didn't stop working during the Category 4 storm that damaged the hospital, despite the high probability of damage to their homes and a mandatory evacuation order.
More than a dozen nurses and respiratory specialists protected the children during the storm. The nurses and hospital staff kept the most critical patients safe and are now considered heroes.
Source: ABC13.com