Workshop
#PlanetPledge | Belfast: the Repair Café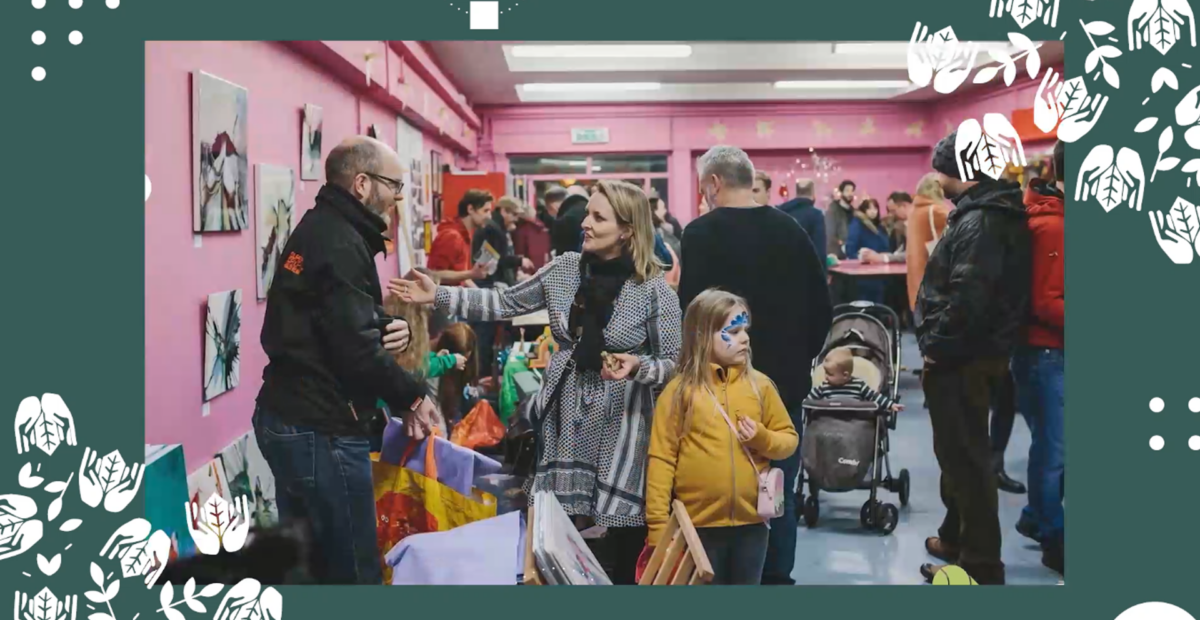 A story of hope, of relationships and sleeves rolled up, to "fix" what's wrong, together.
We are in Belfast, the Capital of Northern Ireland.
For about four years this beautiful city has been hosting an initiative that we could define as much ecological as social and that takes place in the exact same way in other parts of the world, we are talking about the Repair Café.
Chris McCartney, who founded it in Belfast, explains what it is and what its effects are: "I had taken a break from my work – he tells us – because I had the desire to do something for my local community. Having worked on global issues for a long time, I felt distanced from the things I was committed to, and I wanted to do something that I could really touch, feel, and see. So I put out a message on social media asking if anyone had heard of this Repair Cafe idea to create one together here in Northern Ireland".
But what is a repair café?
Literally "repair café," the Repair Café is a regularly occurring event where "volunteers make themselves available to people who bring in their broken items to fix them- Chris explains – and in the process spend a nice morning together. The kinds of things people bring are usually bicycles, phones, laptops, kitchen appliances, sewing appliances, gardening machines, things like that. That is, the Repair Café creates a space where you can share your skills and put them to use in service to the community, and this is much more than simply fixing things. There's a really special atmosphere when we come together to solve problems, to help each other, it's uplifting. And people are fascinated by it, that's why our group is growing and getting stronger and stronger!"
The Repair Café, in fact, is a real experience, both for volunteers who repair but also for people who decide to invest their time in bringing to fix an object, rather than throwing it away. The motivations behind this choice, Chris tells us, can be the most diverse, from concern about climate change, to a desire to see an object one has grown fond of to function again.
Like the case of a couple of grandparents, who walked through the door of the Repair Café for the first time with much discretion and hesitation about the actual possibility of bringing back into operation an old toy car racetrack that belonged to their children and that they wanted to give to their grandchildren. "We introduced them to a couple of our fixers – he says – who were really welcoming and encouraging. Over the course of about an hour, we watched them work as a team, because the person who brings the item to be repaired is an integral part of the repair process. And as they worked, they started telling the story of the toy car racetrack, and what it meant to them. A couple who arrived very reserved, left embracing the fixers, people they had never met before in their lives, but in the course of that common purpose and project they worked on together, they found a real connection."
This sense of teamwork and sharing also makes the approach to the world's major problems more positive and proactive. One feels less overwhelmed and helpless precisely because there is a confidence that one can improve one's own square meter together, to move on to the next one and then the one after that.
And one's square footage can start with even a simple toaster: "One day a gentleman came into the Repair Café and brought in a toaster. He had tried to repair it himself, had taken it apart and had been unable to either fix it or put the pieces back together. Our fixers got right to work, and at one point one of them said it would be nice to have a piece of bread to see if it worked. A volunteer heard this and ran to get a slice from the lunch we had prepared. So we all stood around the toaster to watch what happened, as the seconds ticked by, we were excited, and after a minute, the bread popped out, totally toasted and done! An applause erupted, there was immense joy. And I think that's a kind of feeling that people are looking for these days, because you hear the problems in the world and it can all seem very overwhelming, you don't know where to start or what you can do, and here's something immediate and practical and tangible where you can see the difference."
The spirit of the Repair Café, in fact, is first of all, although not exclusively, a green soul, which seeks to spread good practices for the respect of the environment, through small choices in everyday life. In particular, the concept behind it relates to the circular economy, according to which efforts are made to minimize waste, including keeping objects in use for as long as possible, or at least for as long as they have an effective useful life.
Regarding this, Chris explains that "there's been a lot of hype about recycling and conservation, but one thing we may not have taken full advantage of is the opportunity to reuse resources and repair what we already have. Because every time we fix something we avoid that whole process of extracting the resources that it would take to make something new to replace it, and then also all the transportation, energy, carbon emissions. So in repairing things there's a huge potential, and when you do something like the Repair Café, you're helping other people do the same. It's not just a best practice that you're implementing on an individual basis, but you're actually setting up a chain reaction, involving people who maybe wouldn't have had the skills to repair their own things on their own."
In addition, this approach is also a really positive response to that vision of the future that in order to cope with the climate emergency we will have to give up many things in the future, like taking the plane and traveling to go on vacation just to name one example.
Chris tells us that "actually with the Repair Café, you realize that you can still have the things that you like, because we can get them working, we can get them fixed, and we can do all of that by building a community of people helping each other to address these issues. I wasn't a so-called fixer myself – he says – but spending time on this project has completely changed my mindset, and today I'm able to do more repairs on my own. I think it's a way of life, and the more you carry it out, the more encouraged and supported you are, the easier it becomes. I realized – he continues – that what we thought was a project about fixing things and making a contribution to addressing climate change, is actually first and foremost about relationships, community and bringing people together."
And this sense of community, in fact, is one of the most important effects that the Repair Café has brought to Belfast, through a strong connection of participants who have been fascinated by the project or who, after taking an object to be fixed, have then turned into fixers, and not only that. In fact, Chris explains that "there are many other ways that people can contribute and make the Repair Café work. There needs to be a lot of organization, for example at the reception desk where you check the item, what's wrong with it, and then assign the work to the most appropriate fixer. Others don't have time to actively participate, but they bring home-made food to share with those who arrive. In other words, a community has grown around this project, which is not only the Repair Café community – he says – but is part of the fabric of the city, it is connected to many other communities that are in the place that hosts us. In fact, one thing we like to do is move to different parts of the city and different places. Instead of staying in the same place and seeing the same people over and over again, we want to spread the idea, the joy, and the opportunity to participate."
And if this contagious joy had also involved you who read so much as to want to get involved in the first person, Chris greeted us with some tips for opening a Repair Café in our cities, because it is not at all an impossible task!
"There are Repair Cafes all over the world – he says – and there's an organization that produces a kit that helps people get started, you can find it at this link https://repaircafe.org/en/. We had no experience, no advice, no funding and we created something that has become a regular event in our city, so it can be done. We're working with other communities around Northern Ireland to open more, and we've seen that it works in small villages, it works in the countryside, it works in big cities! The thing that most often worries those who want to get started is finding people with practical repair skills, but you'll find that they're there in our communities, they're there but they're not visible. Maybe they're hidden because of their jobs, or they're retired, or they're people who repair their own things at home as a hobby. These skills are present in our communities, and if you simply create the space for them to come together, you'll be able to create a wonderful project that gives people a really practical way to build community, address concerns about climate emergency and a more sustainable lifestyle. Here's something tangible you can do that will be fun and uplifting. And yes…I encourage you to try it!"
So let's all have courage, and thanks to stories like these, we can find the grit to roll up our sleeves and start small, from our homes to make sustainable and constructive choices, towards the environment, towards communities, towards our future on this Earth where we are together, and that together we must revive.