Workshop
Rediscovering the world's diverse soul: the experience of the Arezzo Multiethnic Orchestra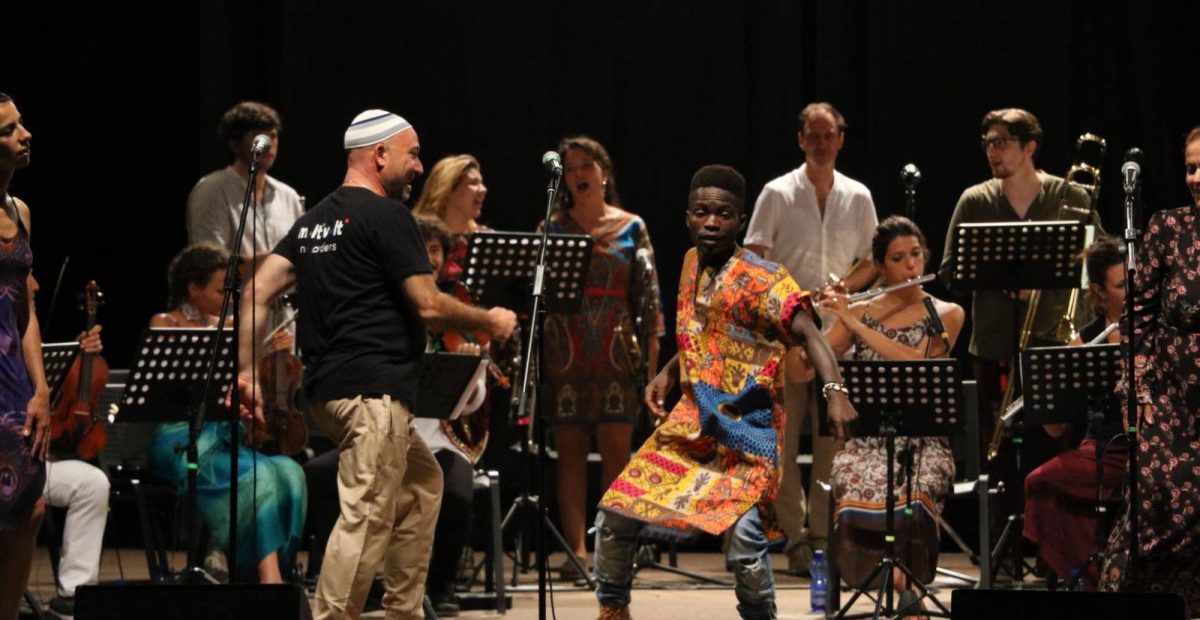 by Emanuela Cavaleri.
In times of conflict and distrust, "finding a new way of living together based on everyone's right to existence, to creativity, to life": such is the mission of the Arezzo Multiethnic Orchestra. Founded eleven years ago and made up of thirty-five musicians from twelve countries, including Italy, it proposes a journey of peace through the discovery of the typical sounds of the Mediterranean and of parts of Asia. We interviewed Luca Baldini, musician, arranger and president of the Orchestra.
How did the Arezzo Multiethnic Orchestra come to be?
It all started with a course organised in 2007 by musicians Jamal Oussini from Morocco and Enrico Fink, an Italian Jew (and present day conductor). The aim of the course was to study the basic structures that music traditions from all over the Mediterranean have in common. From that first experience came the desire to start a multiethnic orchestra whose repertoire would mix sounds from different countries and traditions, in order to promote a message of peace and dialogue among different cultures. The orchestra is made up of a stable core of professional musicians and of people who used to play music in their home countries. Here, they find new enthusiasm and a desire to live better through music and the encounter with other people.

How has the orchestra changed you? What lessons have you learned over the years, as people and as musicians?
Every time we work on a song, we come face to face with the fact that cultural traditions transcend national borders. In our first album, there is a track called Animameticcia ('mixed, diverse soul'), which was inspired by a piece of Jewish music. When we played it for the first time, our Lebanese singer said "We sing this too, it goes like this", and he sang it in Arabic. Then our singer from Bangladesh did the same in her language. A piece of music that we think comes from our national tradition belongs in fact to the whole world, because it was transmitted by travellers who told strangers about their experiences. Every nation has known and continues to experience immigration. We all have something to give, and that something can go as far as becoming another nation's tradition. Playing in the orchestra has strengthened a conviction we already had: that humanity is one, that there is only one race, the human race.
Another incredible thing is that there has never been any friction because of religion in the orchestra, even though four or even five faiths are represented. For us, it's a tiny miracle to be able to get the idea across that a Jewish piece also belongs to the Arab tradition. We clearly won't change the world, be we are changing the way we experience things in our everyday life.

And then, maybe, when the time comes to leave Arezzo, someone from Bangladesh takes a piece of Romania with them…
Yes, those who leave take the orchestra experience with them. There's a girl from Bangladesh who spent five years with us, she is now in charge of a big radio for the Bengali community in London, and she often uses that medium to talk about her experience with us and to convey a message of peace and dialogue. Sometimes our work also helps other foreigners who live in Italy feel recognised. One of our musicians once told a builder from Albania who was doing renovation work in his house about the orchestra, because one of our singers, Eli Belaj, is from his country. When she was younger, Eli was a popstar in Albania, and that explains why, to my colleague's utter surprise, the builder had a picture of her at age 20 in his wallet! These little things give us a sense that, through our work, we can give someone a moment of enthusiasm simply by acknowledging their past in another country. By making them feel seen, which is in itself something important.

Do you write your own music?
Each orchestra member contributes to our repertoire. We always ask our colleagues to suggest traditional pieces from their countries of origin, and then we arrange them for the orchestra. Sometimes we blend together melodies from more than one country, or, when we play with a guest, like we recently did with Dario Brunori, we take one of his songs, we mix it with our music, and then we give it back to him again, but with a different flavour.
How do audiences respond to your message?
Always very well, people are full of joy and enthusiasm, and they're eager to share this experience with us. Because what matters most in what we do isn't that we reach musical perfection (since not all of us are professional musicians, that takes second place), it's the impact that our music has on our audience, the feelings sparked by the fact of seeing many cultures unite on stage.

Your music carries a message we all need to hear these days, especially in Italy and Europe. What do you think of the times we are living in, of this growing fear of 'the other' that has even found its way into the political discourse?
We are very worried by the government's populist rhetoric. They say things that you might just as well hear from a shoemaker who's angry because someone has smashed their shop window, or from someone whose car has been burgled. Today, planning to close borders is no use at all: that's just a catchphrase to win more votes. What we need to be afraid of is ourselves, it's those moments when we get angry and think "they should have stayed in their own countries". We all think like that sometimes, and that is the true danger. When we realise that that's what we should be afraid of, then we see that there's no need to be afraid of one another. Because 'the other' can actually help you build a just society, a society that — let's not forget — is bound to become more and more diverse anyway. Fear triggers suspicion. A welcoming attitude, on the other hand, generates trust.
That is the message you want to get across to young people in schools…
Yes, it is. Our concert-lessons in schools are meant to teach young people about the beauty of cultural diversity, to awaken their interest in the culture of a classmate whose skin is a different colour but who is equal to everyone else. More than once, during our lessons, we had a whole class find out the real name of a Bengali student whom everyone called by an Italian name. In our own small way, we try to do just that: get to know them and, in turn, help them get to know one another better. By its very nature, music should be ideal for that, but young people don't pay a lot of attention these days, even when it comes to music. That is why, first of all, we try to listen to them, to ask them what they like and why. And then we help them understand that, if they pay more attention, not just to music, but to other people as well, they can live better. Today, people in general are less sensitive to music because they don't want to think, they just want to be told what they already know. The role of a musician, on the contrary, is to help people find out new things, to explore the unknown. But, in order for that to be possible, we all need to learn how to listen, open up and question ourselves again.