Workshop
Ukraine emergency – updates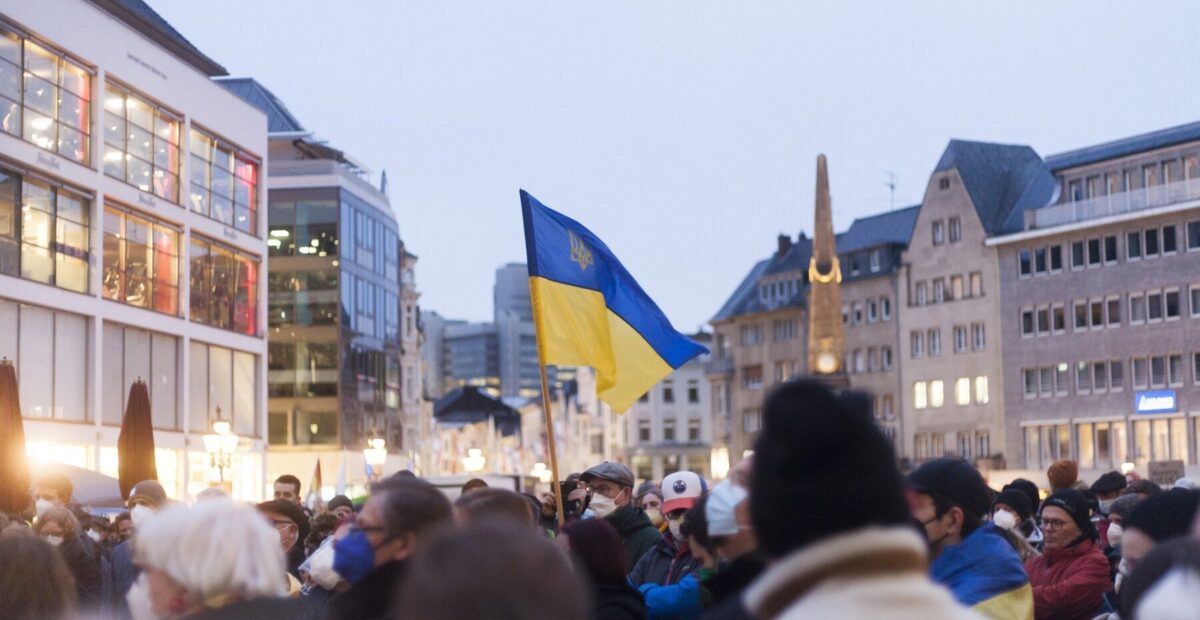 The following updates come to us from Mira, a Slovenian focolarina who lives in Ukraine and has been working with Caritas-Spes Ukraine for a long time.
04 March – Ukraine, the commitment of Caritas-Spes continues
The first trucks with humanitarian aid have started to arrive in Lviv and now attempts are being made to organise distribution.
According to Caritas-Spes, 56 large and medium-sized settlements have already been affected.
Among them, twelve have a critical humanitarian situation ― Irpin, Bucha, Borodyanka, Vorzel, Ivankiv, Chernihiv, Okhtyrka, Volnovakha, Stanytsia Luhanska, Shchastya, Severodonetsk.
A centre in Berdyansk was temporarily occupied.
In recent days, Caritas-Spes has provided shelter to more than 260 people in western Ukraine and in the centres of Kiev, Berdyansk, Vinnytsia and Odessa, epicentres of military attacks.
The evacuation of family homes and homes for mothers in distress continues actively. The pupils of the Josef Holtzman DBST are already in Warsaw and the wards of the village of Korotych are being evacuated with the help of international partners and the Ukrainian Commissioner for Children's Rights.
More than 485 food parcels, hot lunches and 504 packages of baby nappies have already been distributed.
Efforts are being made to bring in humanitarian goods from Poland, Slovenia, Hungary and logistics are being organised for distribution despite the fact that motorways are blocked and in some places the railway is the only link.
In Transcarpathia, sandwiches, soups and hot drinks were distributed at the Luzhanka checkpoint.
In Lviv, the queues at the borders have been greatly reduced, but the distribution of hot meals and sandwiches continues.
Humanitarian products were received and delivered in Kiev, Irpin, Odesa, Khmelnytsky and also in Lviv in the parish where refugees are received.
Food parcels were delivered to 30 families.
Caritas-Spes Lutsk continues to assist 42 orphans and IDPs from Kovel.
In Berdiansk the distribution of food parcels continues and at night, in the shelters, meals continue to be prepared for those who ask for hospitality.
In Zhytomyr, in the village Nova Borova, 2 psychoneurological dispensaries for 80 children were delivered.
Caritas-Spes in Kamenets-Podolsky is hosting two families, one with one child and the other with two.
Another 10 people are expected from Kharkiv and a few from Bila Tserkva. We expect to be able to accommodate a little more than 20 people, so far about 15 places remain free.
03 March – Ukraine emergency, support for mothers, foster homes and orphanages
For the Ukrainian Emergency, our direct line with Mira, a focolarina who lives and works in Ukraine with Cartias-Spes, continues.
In addition to the challenges posed by the war, the Mission continues to care for family orphanages and homes for the elderly.
Currently 11 family-type orphanages with 91 children are located in the immediate vicinity of the combat zone. In the Nova Borova village, 2 psychoneurological dispensaries for 80 children have been delivered and a hot meal has been ensured for 42 displaced orphans and educators from Kovel.
At the moment we are also in contact with 18 mothers, 28 children and some nuns living in three homes for single mothers with children 27 km from Kharkiv. For them evacuation is a matter of time.
In the meantime, needs continue to be mapped for each region, and with the shortage of materials looming in the next few days, arrangements are being made to receive humanitarian aid in Ukraine and to buy online and secure delivery of what is needed.
02 March – Ukraine emergency, efforts continue for displaced people and refugees
Our direct line with Mira, a focolarina who lives and works in Ukraine with Cartias-Spes, continues.
In the last days, Caritas Spes Ukraine has been able to help more than 2130 people (as of 1 March)
In the regions of Lviv and Transcarpathia the work of welcoming refugees continues, creating a network of institutions able to provide accommodation that can also ensure food, medicines and everything necessary for initial help to those who have had to leave their homes.
In Lviv, on the Polish border at the Rava-Ruska checkpoint, Caritas-Spes Lviv continues to distribute hot lunches twice a day. A total of 500 lunches have been distributed, although operators note that the queues at the border are significantly decreasing. Many sandwiches have also been distributed at the Lviv railway station.
Currently, the Mission can accommodate more than 2,500 mothers with children. 750 people have already been accommodated, but near the borders the number is constantly changing, as these are buffer points.
The 14 fixed soup kitchens in the region and Lviv, Lutsk and Zakarpattia organise meals for those near the border who are trying to leave the country, supporting around 1,000 people.
Humanitarian aid in the form of food was received, unloaded and delivered in Kiev, Irpin, Odesa, Khmelnytsky, as well as in Lviv in the parish where the refugees are being received. Food parcels were distributed to 30 families in Lviv.
01 March – Ukraine emergency, thousands of displaced people on the run – Direct line to Mira
The fifth day of the war has passed and thousands of people are trying to leave the country or are being forced to abandon their homes, which have been destroyed or are considered unsafe. While men are being called to arms, it is mainly women and children who are undertaking journeys of hope, for example to Poland. At the border, Caritas-Spes Lutsk from the parish of St. Peter and Paul distributed hot food (vareniki, polenta, biscuits, etc.) to 110 people. Caritas Spes Lviv organised meals for people waiting to cross the border into Poland.
The centres also offer shelter to refugees in the small towns near Lviv: Ivano-Frankivsk, Chernivtsi and Ternopil. To date there are about 350 vacancies, but the figure is constantly changing. Usually these shelters become temporary residence points on the way to the border. Only yesterday more than 350 hot lunches were distributed.
In the village Solotvino, near the border with Romania, tea and sandwiches were distributed to 375 people. In Vynohradiv, 121 people were housed in dormitories, provided with everything they needed: blankets, hygiene products, clothes, food.
In Odessa Caritas Spes provides 3 shelters. Today they bought mattresses, water, canned food, etc.
01 March – Ukraine emergency, the tragedy of children – Direct line to Mira
Mira, a focolarina who lives in Ukraine, gives us an update on the conditions of the population devastated by the war and on the interventions of Caritas-Spes, also supported by the fundraising launched by the emergency coordination of the Focolare Movement, AMU and AFN.
The most vulnerable in this war, as in all wars, are certainly the children, unwitting victims of a situation that will mark them for life. Often separated from their fathers who stay behind to fight, they are forced to make journeys of hope or, in the best of cases, pilgrimages from one refuge to another with their mothers and siblings, little more than children.
Caritas-Spes from Luts hosted 42 children from the Kovel orphanage in its Integration Centre in Volyn. Also in Volyn, the Volyn Regional Medical Association for Maternity and Child Protection (Volyn Regional Children's Hospital) is preparing for any eventuality and is organising shelters for pregnant or birthing women, for children in care and for their mothers. St. Augustine Caritas-Spes Zakarpattia has identified a network of 26 settlement sites (dormitories, recreation centres, camps, etc.). Today, 2,412 mothers with children can be accommodated.
In Lutsk, food parcels were delivered to 20 children suffering from a rare disease: phenylketonuria.
To support the Ukrainian population, contribute to the fundraising campaign of the Focolare Movement's Emergency Coordination Unit – AMU – AFN
Source: