Sports and Competitiveness
12 July 2019 - 14 July 2019 | Loppiano (Fi) - Italy | 09:00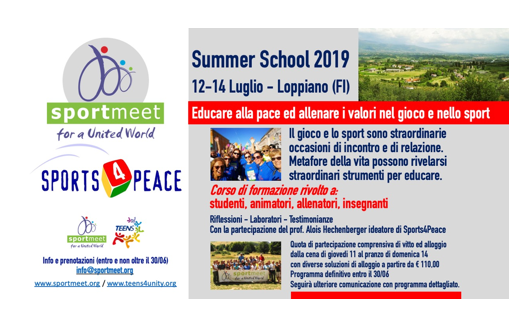 From July 12 to 14, the summer school promoted by the Sportmeet association will be held in Loppiano, Italy, to educate for peace and train for values, both in play and in sports.
The educational potential of sports activity is universally recognised. Sports, a global phenomenon, are fascinating because they incorporate two apparently divergent realities: play and competitiveness. It is, however, precisely because of this " twofold face " (recreational and competitive) that, in many areas, there is still a view separating pedagogically "good" sports from "negative" ones.  But – the organisers of the summer school promoted by the Sportmeet association, amidst the beautiful Tuscan hills of Loppiano (Fi), from 12th  to 14th July 2019, ask themselves – are we sure that the educational purpose is guaranteed only when we promote a way of playing or practising sports where victory and talent are disguised? Are we sure that competitiveness is negative from an educational point of view? Is there anything we can improve on about these two approaches? Is it possible to have a dialogue that will help us progress towards a more harmonious vision?
These questions will be answered by teachers, students of motor sciences, educators, coaches and sports managers who have responded to this Sportmeet summer call. Everyone will be actively involved in the programme, through the sharing of experiences, laboratory activities and field trials, with a wish to jointly understand how to interpret and use the necessary tools to promote education in and through play and sports. The speakers will include: Gennaro Testa, sociologist of sport; Dr. Alois Hechenberger, creator of Sports4Peace, ua project to educate for peace through play and sports; and Mario Delverme, promoter of Futval, an educational program that aims to transmit the values of solidarity through football, organized by the Scholas Occurentes Pontifical Foundation, founded in the suburbs of Buenos Aires, by the will of the then Cardinal Bergoglio.
Click HERE to find out more.