Workshop
"Instruments of peace for a broken heart"
By Giovanna Pieroni
We share the story of Trésor, a young man from the Democratic Republic of the Congo whose life was transformed thanks to the 'Petite Flamme' project.
Trésor was born in a village on the outskirts of Kinshasa, in the Democratic Republic of the Congo. A country that armed conflicts and the climate and food crisis, aggravated by the pandemic, have made one of the most unstable areas in the world. For the children of Kinshasa, the lack of access to drinking water and sanitation is a cause of high mortality. Access to education is very limited. Trésor's father was an aircraft repairer, so he was able to send his child to school in Barumbu. Trésor, the first of six children, was lucky in comparison to other kids. Unfortunately, however, his father died of a serious illness, and his mother, who then had to support the family alone, died of poverty soon afterwards. Trésor became an orphan of both parents.
He was only 13 years old, but his life seemed already over. Besides feeling an inconsolable sorrow for losing the people he loved the most, he started falling into the deepest despair and misery. His five siblings, accused of witchcraft, were chased out of the extended family. Trésor was taken into an uncle's home, but he felt lonely and suspicious of everyone: "I sometimes had something to eat, but I wasn't hungry because I thought of my brothers and wondered if they had had any food that day. And I prayed that God would protect them. A person can live as long as they feel that their life has meaning and purpose… I felt like a living dead person. If nature had given me the strength to disappear and the chance to reappear in the place where my parents are, I would have, simply to tell them: I miss you, Mum, I miss you, Dad."
One day, before the beginning of the school year, someone knocked at the door, and Trésor's life started to change. "Sometimes — he says — you wonder what the point of life is, and that's when you meet the people who give life meaning." He got involved in Petite Flamme, a project providing care to the children of poor families and orphans: "It was the beginning of a story that changed my life and my way of seeing the world, after feeling lonely, sad and discouraged for so long".
Mrs Aga Kahambu, the project coordinator, loved him like a mother. "I started sharing my problems with Aga, I told her about my brothers and they got help too. She gave me advice that guided me through life and that I, in turn, give people who are going through a hard time".
The Petite Flamme Project in Barumbu
Petite Flamme is a social charity founded in 1996 by a group of members of the Focolare Movement with the aim of supporting disadvantaged children from the province of Kinshasa and particularly the town of Burumbu, providing education, food, healthcare and supporting some families living in extreme poverty, also thanks to Azione Famiglie Nuove's child sponsorship programme. Over time, needs have increased and school classes have been added, year after year, to accommodate the community's requests.
Today, Petite Flamme, recognised by the Ministry of Education, includes seven schools (five in Kinshasa, one in Kikwit and one in Idiofa) and a professional training and education centre located in Kingabua and attended by young women with limited resources. Over the last 26 years of work in this delicate area, the project has supported thousands of children through their school years, taking them off the streets, where they risk falling into the trap of criminality or prostitution or being recruited as combatants.
Trésor's new life
Having found peace and a renewed hope in what life had in store for him, Trésor went back to school. He continued studying with great determination, and was the first of Petite Flamme's children to go to university and get a Degree in Mathematics and Computer Science, paving the way for many more boys and girls who have followed his shining example.
Trésor chose to stay in Kinshasa to serve the people of his community, devoting himself to the mission of helping vulnerable and disadvantaged children. He teaches them Maths, French, Computing and general knowledge. After the project visit by the AFN staff in 2017, he also decided to learn Italian and assist with correspondence with sponsors from the child sponsorship programme.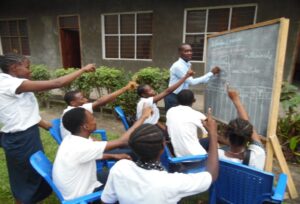 "If you treat someone as he is, he will remain as he is — Trésor concludes — but if you treat him as the person he could become, you give him a chance to become that person. Since the moment I arrived at Petite Flamme, I've been treated as a responsible adult, people respected me and spoke to me with love: to me, that was a sign of consideration. Those people saw me as a true leader and helped me become one".
The children respect and love him. He is truly a great educator and leader, having received the 'Eco For Leaders' Diploma from the Sophia University Institute for his work against tribalism, corruption and social conflict.
He has written a book about his life, awaiting publication, called 'Fruit of True Love'.  He wrote it to thank all those who accompanied him with sincere affection and professionalism, those whom he calls 'instruments of peace for a broken heart', and to say that you can always start again when you receive a helping hand.
We can all give a helping hand if we decide not to remain indifferent to the cry of the people in need. What happens next can be simply extraordinary.
Source: