Workshop
Live to give until no one is in need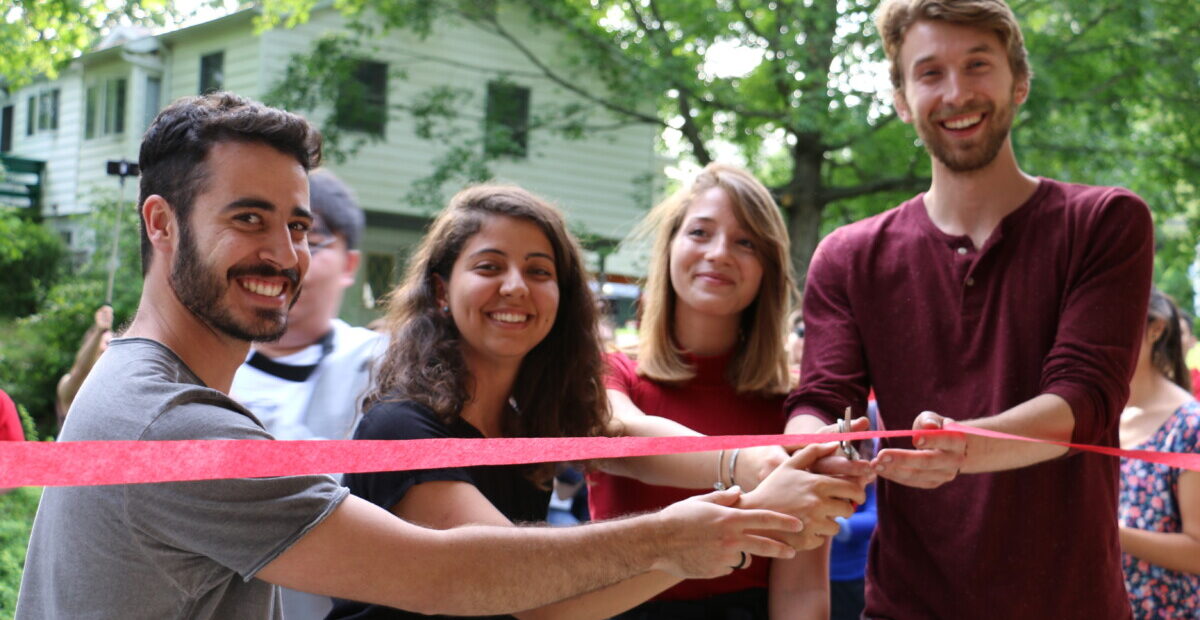 By Christopher Piazza.
70 young people gathered for United World Week 2019, focusing on work and economy.
New York may be known to some as The Big Apple, the city that never sleeps, or even the concrete jungle, but two hours north in the small town of Hyde Park lies Mariapolis Luminosa, the little city for North America of the Focolare Movement. From June 9-16, over 70 young people from the U.S., Canada, Mexico, Paraguay, Italy, Brazil, Lebanon and the Czech Republic gathered there for United World Week 2019.
A new 6-year initiative set out by the Youth for a United World Movement (Y4UW) called Pathways for a United World was launched at the Genfest 2018 in Manila, Philippines. The first pathway, encompassing the themes of economy, work and communion, was the focus of this year's event.
For five days, the young people presented the theme, along with a "thought of the day" phrase to live out; for example: "There is always something to share." Plenty of opportunities were found, whether by offering a singing talent, a smile, even a sum of money to help someone cover the cost of the event.
After the presentations, various business owners that adhere to the Economy of Communion (a new economic model that promotes fraternity in all aspects of business) showcased how they create a culture of unity through their work. For example, two business competitors Paul Catipon of Netpro and Nellie Torres of Project Span, shared how they put their personal relationship before the cut-throat competition of their work in Wall Street. Joanna of Boston said, "It was amazing to hear the experience of those two and actually see them side by side." After hearing about Mundell Associates, Nathan of California shared, "I was by fascinated how businesses can tremendously influence the community."
Later in the day, participants split up into various workshops covering finances, leadership and resource poverty.  Noe from Mexico commented, "This was an eye-opening workshop for most of us because we could hear from real life experience that money isn't bad. We can give it a good purpose." In the evening, participants were able to visit the "Fabric of Fraternity," an art exhibit that took the visitors on a journey where they can be part of a fabric that leads to universal brotherhood.
During a visit to New York City, besides the sightseeing, a keynote presentation was led by Lorna Gold, author of Climate Generation, followed by a panel of other environmental activists, who discussed how they combat climate injustice. While that was occurring, the audience wrote on paper leaves their contribution to or wish for climate justice, and they placed these leaves on a tree design exemplifying how we are one in this journey. According to Nicholas Piazza from California, "The seminar was really inspiring. It was amazing to hear about how we can respond to our current climate crisis." It was a call to individual and collective action.
There was also time dedicated to small group sessions to reflect on the week and brainstorm more ideas on how to live this "culture of giving" in our daily lives. On Friday, the participants went to various Hands 4 Humanity events such as a visit to a nursing home, a consumer awareness exercise called "Into the Label," and upcycling. Paula of New Jersey enjoyed upcycling wood and said, "I was extremely excited to use my imagination and create something with my hands that we could sell and put the money to good use!"
On the last day, "Live to give until no one is need" was introduced as the culminating theme of the week. This essentially summarized what we had been living the past week and will continue in our daily lives. We were able to showcase our experiences in a special edition, live video link-up with the rest of the Focolare communities around the world. As Mary of Toronto shared, "This event helped me realize that a united world is not only possible, but it's already becoming a reality!" Even though this pathway is coming to an end, our mission isn't over: next year we'll focus on promoting human rights, peace and justice.