Workshop
By Maddalena Maltese
An interview with Algonquin chief Grand-Father, Dominique Rankin and Grand-Mother Marie-Josée Tardif, devoted to reconciliation with nature and people. 
The forest is his sanctuary. It is the nave where songs and prayers resound. It is the family album, where ancestors continue to recount memories and speak to his heart and mind. It is the place of healing.
Grand-Father Dominique Rankin, an Algonquin Native American agreed to be interviewed in the heart of the Laurentian Mountains, in southern Quebec, north of the St. Lawrence and Ottawa rivers. He was joined by Grand-Mother Marie-Josée Tardif, former journalist and coauthor of the book They Called Us Savages.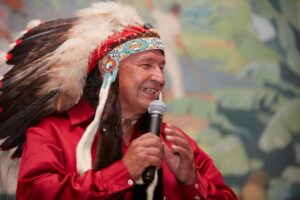 They are both dedicated to promoting reconciliation and the sharing of indigenous cultures with all nations.
They have also taken refuge in the mountains to make sense of the hundreds of indigenous children's bodies that Canada is finding buried alongside Christian schools. Bodies that have disappeared; a lost generation for the First Nations people. "I don't want to speak in public before my soul is healed," Dominique explains, "before peace and forgiveness have filled my words."
Dominique, or Kapiteotak (his real name at birth) had been chosen at the age of seven to succeed his father as chief and traditional healer. He has swum in a circle of beavers and slept with bears, learning from them to attune his spirit with Mother "Mommy" Earth, far from the fear and disengagement he had learned in a Catholic boarding school.
He has devoted himself to teaching ancestral knowledge to members of the First Nations as a way of reconnecting them with their roots.
Continue reading on: