Watch
#Daretocare in Latin America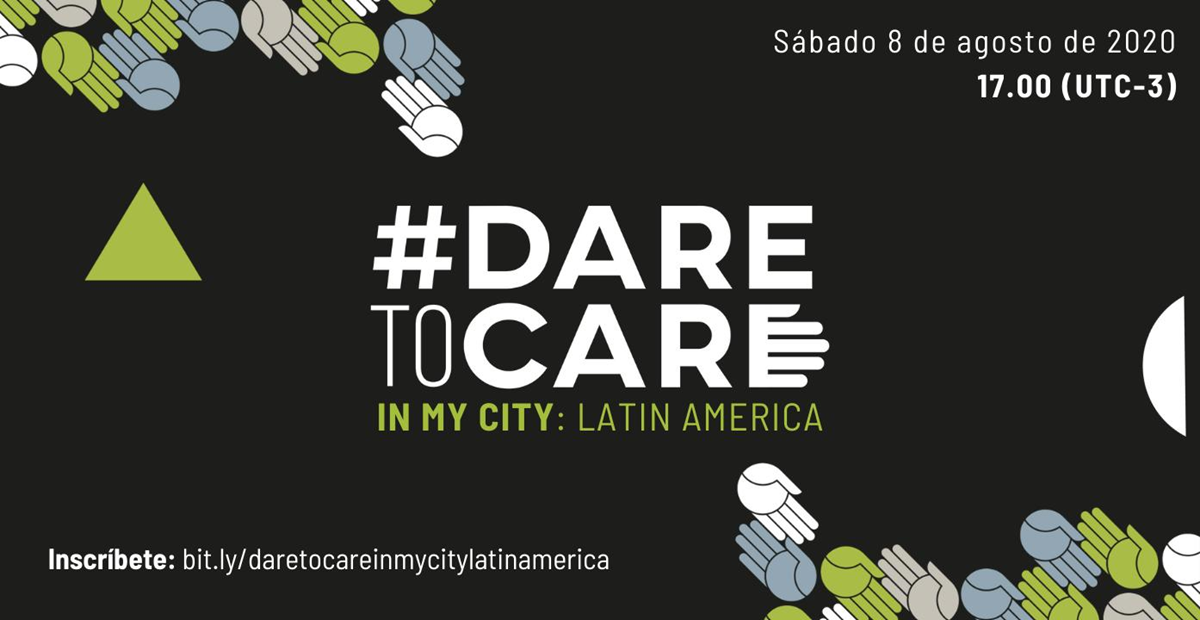 Saturday 8 August (at 17:00 UTC-3) the first edition of #Dare to care in my City streams live. A virtual journey across an entire continent, to share stories, pose questions, to inspire and be inspired by people and communities who are placing the paradigm of caring at the heart of all they do. What does "dare to care" mean for this immense and varied continent? On tiptoe we step into this amazing world, as we speak with  Clara Mariel Badilla, an educationalist from Costa Rica and with Uruguayan sociologist Virginia Osorio.
If the enforced isolation caused by Coronavirus has brought with it one good effect, it must be our new-found familiarity with various online video-conferencing technologies, which allow us to approach persons and worlds far away from us. From the United World Project's point of view, these are proving to be exceptionally helpful instruments for unity, for feeling close to others, meeting and connecting, getting to know other people, overcoming distances and time zones. We've never actually met Clara or Virginia in person. But we're connecting by phone. Clara is originally from Costa Rica, now living in Mexico City. Virginia is from Uruguay and now lives in Tucumán, north west Argentina. We've turned to them to help us enter on tiptoe into the complex and varied Latin American culture, from the perspective of the paradigm we are all taking to heart: care.
Virginia, as a sociologist, what do you think the Latin American culture, history and experience can offer to this year's Pathway proposal of #daretocare?
«The first thing that comes to mind is the wisdom of our native peoples in their kind of harmonious relationship in caring for life and for Creation. And then, a new vision of development, a new social vision, which takes the peripheries as its starting point. And there's the methodology of the social doctrine proposed by the Latin American Church: look, judge and act. Look at the reality; judge, in  the sense of asking for the wisdom necessary to be able to look and understand beyond what you see; and then of course, act. But action must come after the first two steps. This is what springs immediately to mind: wisdom in relationships, social vision and the power that can emanate from the periphery. And there's another thing. When people think of Latin America, they see us as a young continent, so a place where there's hope for the future … ».
Claria Mariel, what do you think the rest of the world can learn from the approach to caring present in Latin American culture and society?
«I agree with what Virginia says about relationships. There's a natural tendency here towards community, to building the family, which for us goes beyond the four walls of our own home to include the extended family. It's emotional to see how our peoples, despite being very different from one another, act in natural solidarity. You can see many people giving away what they themselves would need to survive. I come from Central America, where we don't have seasons. It's said that we're the countries of "eternal springtime". Maybe that explains why we don't have the habit of saving, because nature is generous and gives us what we need for today. Most of our people are like this, we don't worry about not having anything to eat tomorrow … no, today's today, so come to our home where you'll be made welcome and we'll give you what we have. It's also true that as a people we're very linked to the "heartbeat" of Nature, and to the teaching that Nature itself can give about "caring" and "taking care". This link draws us to live the same way, taking care of those around us: I'm ok if you're ok. Now that doesn't mean we don't also have contemporary examples of exclusion. We certainly do bear the scars of diffidence, of mistrust».
Explain what you mean by "diffidence"…
«Let me tell you something I've learnt. I lived in Venezuela for a while, near a city where many residents are from one of the indigenous communities. They told me that diffidence, or suspicion, is a survival mechanism for them, so it's not a negative attitude. We have to understand that for many years there was always someone – the State or others – trying to take what was theirs away from them. So they learnt to measure, to evaluate the kind of relationship these others are intending, before they open themselves up. So our peoples, many of them if not all, need time to reflect and to understand. But when they do open their homes and their hearts to you, you become a part of the family! So in this sense the word "diffidence" means a necessary process to understand the intentions of the person who is approaching».
Virginia, what do you think the rest of the world can learn about active citizenship and politics for unity from Latin American culture and society?
« 'Dare to care' in politics is perhaps one of the biggest challenges this continent is facing. There is no social safety-net, no job security, too much unregulated work in a largely 'informal' economy. Corruption and inequality are endemic. With all these challenges, who would want to put themselves forward in civil activism? Participation is not promoted in Latin America. We don't have a pan-Latin American parliament, for example, and the Latin American political vision is largely ideologically exploited. Having said all that, many social networks, solidarity economic initiatives and social movements are born from here. And these, says Pope Francis, are "the true social poets, who, from forgotten peripheries create dignified solutions to the most urgent problems of the excluded".  And there's a force moving ahead here, a community intelligence capable of inspiring public politics. The people of these lands demonstrate an innate capacity to form networks to take care of one another, especially where the culture of the original peoples still survives…
In what ways, Virginia?
For example, it's only recently that community land rights have been recognized for the first time. The Inter-American Commission on Human Rights (IACHR) decided against Argentina in the case of the Indigenous Communities Members of the Lhaka Honhat ("Our Land") Association. The Court upheld the complaints of the indigenous communities and found the State of Argentina responsible for violations of their fundamental rights. The Court ordered the State to undertake various reparation measures and to give the communities the deeds to their ancestral lands. This is a highly significant step forward, which could lead to new political criteria».
Clara Mariel, would you like to add anything?
«I think the family is another important element. It's like the root system of a tree, which keeps on growing stronger and larger. The sense of being part of a group or clan, of belonging to a community, is very strong here. Feminine values are strongly felt here too! And while you certainly can't ignore the obvious machismo of our societies, the woman is the hub of the family group and of many realities, through her capacity to care and to love. Throughout Latin America, this is a power which – overcoming the constraints of dominant machismo – could give a "Marian" sensitivity to our politics, with all the social potential of the Magnificat».
Interested? I certainly am. So don't miss the appointment with  #Daretocare in My City – Latin America, Saturday 8 August, at 17:00 (UTC-3) (Take care to check your own time zone!!) streaming live on Zoom and the United World Project Youtube channel.