Watch
Everything asks for salvation, everything asks for kindness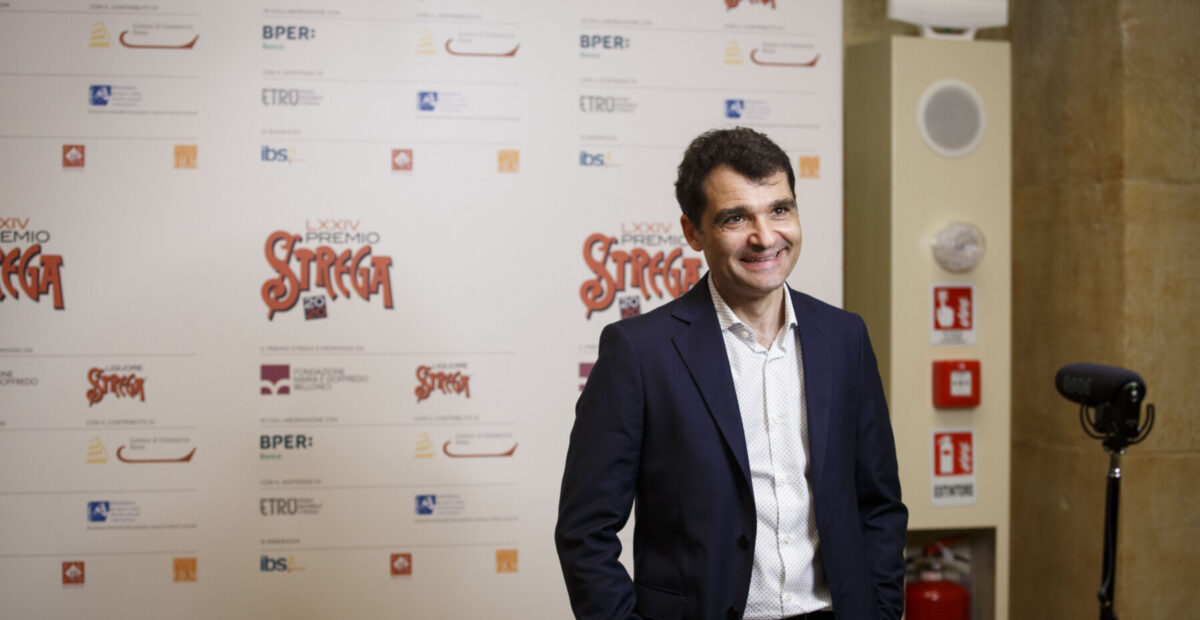 What is care for Daniele Mencarelli? The writer and winner of the 2020 'Strega Giovani' Prize tells us about the importance of kindness and care in relationships, in a world and at a time in which the other "is always a possibility for me".
Daniele Mencarelli is like a river in flood. Whether he is with his children, or with his readers at the end of a book launch, at the supermarket or sitting at his laptop, Daniele is always faithful to himself: straightforward, normal, down-to-earth; a man who, precisely because he has suffered a lot, is constantly looking for life in every corner of his home, in every glance or blink that catches his attention.
Daniele was born in Rome in 1974: he is young, but he is already well-known, especially in Italy, as one of the most active and interesting writers in the current literary landscape. He started off as a poet, and a poet he remains, although he is now also a novelist: his book, La casa degli sguardi ('The house of glances'), published by Mondadori in 2018, is the story of a resurrection that pervades an intense and unavoidable pain; it has mesmerized thousands of young people, as well as the juries of some of the most important Italian literary prizes[1].
During lockdown, he met hundreds of young people online to discuss his books – I use the plural because, during this time, his second work has been published, Tutto chiede salvezza ('Everything asks for salvation', Mondadori, 2020), which in 2020 won in the young adult section of the most prestigious Italian literary prize, the Premio Strega[2].
As I join him, he is working on his third novel, which should be completed towards the end of 2021. "I'm writing, but this third novel is different: before, I could keep my concentration and take breaks, because all the activities, my kids, my family, gave me opportunities for distraction and 'life', which gave my writing a different point of view. Now, in lockdown, the only distractions I have left are my trips to the supermarket, and I feel like I am being kind of 'swallowed' once again by this story, which is my own story, it's romanticized, but it's my own".
We are going to talk about 'care' and kindness with Daniele, starting from his books.
You are now writing the third novel of what you call a reverse 'literary trilogy' of your life, what does that mean?
"That is because my first novel, The house of glances, is set in 1999, the second, Everything asks for salvation, is set in 1994, and the third one, which isn't complete yet, will be set in 1991, when I was seventeen years old and decided to 'walk back home' from Misano Adriatico (a town in northern Italy) to the Roman Castles area; I walked more than 400 kilometres, alone and without a penny in my pocket. It was madness, but I really did it!"
Why did you decide to make that journey?
"That summer, I was on holiday in Misano Adriatico with some friends. After a night out at the Cocoricò, one of the most famous clubs in the area, I felt that I had nothing in common with those people and with those friends anymore. I decided to leave, to 'go back home' in every sense of the word. I was seventeen, but my mind was set. I wanted to make the journey alone. And so I left".
That journey was one of your first experiences of receiving 'care'…
"That's right. I met many people during those weeks: those who let me stay in their homes, those who gave me food, those who wanted to take me to a train station and pay for the ticket: although they didn't know me, these people wanted to take care of me, and that was a beautiful experience, because these men and women taught me that other people are very much like us; people aren't monoliths of good or evil, we have the possibility to switch from one mode of functioning to the other through the relationships we create with those we meet. If only we could approach the other focusing on the good that he or she can give us, almost without realising, we would offer the other a chance to give their best. There were people, that summer, who were surprised at themselves for the way they helped me, for the good they were able to generate".
Did everything go smoothly?
"The focal point was my longing for home, which the people I met encouraged and helped me feel. I put myself in danger, physically: I fell ill, I was robbed, I had an accident… as I got closer, home seemed to move further and further away, but I got there in the end".
Why is the relationship with the other so fundamental in all your books?
"Because I wanted to share my experience of the emotional education I was given by the people who brought big or small revolutions into my life. These revolutions were tangible and total, and every time my life was taken to pieces and built all over again. I wanted to share my own encounters as a form of gratitude, to say 'thank you' to these people. After all, a writer doesn't write for themselves, it's someone who writes for other people, for those who can't do it, for those who don't have a voice. I've got the hope that my encounters can become someone else's encounters. This is the greatest treasure, the form of 'care' I present to the young people who follow me".
Care and kindness: we celebrated World Kindness Day just a few weeks ago…
"It's a delicate issue, because kindness that wants to show off in a tone of voice or an attitude has no value. Don Bosco used to say: "May no one leave this place unhappy", and when I first heard this sentence, I understood that the idea of making someone happy who might have some reason for being unhappy, the idea that I could be of help to them, is like a huge gamble, a gamble that is true and beautiful. None of us knows what trials we or the others might have to face in life, but everyone can say, 'I made someone a little less unhappy today'. To me, this is the best feeling, because the greatest happiness a human being can feel is in giving happiness. But it's an art that must be learned over and over, honing your character, letting life – which is above all made of relationships – mould you. That is true kindness".
How are you learning?
"I learn by going back to the little things every time: the small attentions, taking time to listen,… knowing that I can make mistakes, I can feel tired sometimes, but having experienced the lack of 'care' on my own skin, I always say that we have to be aware that we don't know what the person standing in front of us is going through, and sometimes our lack of attention, our being in a hurry or saying something inappropriate or untimely, can be devastating".
This is particularly evident in "Everything asks for salvation"…
"Yes, in that book I relate a very intense experience I lived in the summer of the 1994 football world cup: I spent a week in hospital for a compulsory health treatment I had to undergo because of a weakness of mine. There, I learned that smiling back at someone, or seeing someone smile at you, can change your day. Even now, these gestures still fill my days, and I'm learning to appreciate them more with time."
Everything asks for salvation… everything asks for kindness?
"Well, I'd say so: after all, true kindness is taking care of others, and it starts when the eyes, and intentions, meet. No matter what you do, it's how you do it that 'changes' your whole life. There are mundane places and situations that provide great opportunities for our existence, even the way you queue at the supermarket can say a lot about you, depending on how you act with the person next to you. If you pay attention to these things, there will be surprises, both anticipated and unexpected. It's the core of our daily struggle: the important thing is to be prepared for these little opportunities that make our whole life a great experience."
[1] Volponi Prize, Severino Cesari Debut Novel Prize, John Fante Debut Novel Prize.
[2] The Premio Strega is the most prestigious Italian literary prize, awarded every year to the author of a book published in Italy between 1st March of the previous year and 28th February of the current year. The prize has an established reputation in the rest of the world as well. The Premio Strega Giovani is awarded by a jury made up of over 500 children from secondary schools across Italy and the world, with the aim of introducing young adult audiences to contemporary Italian fiction.