Workshop
A school for "United Word Ambassadors"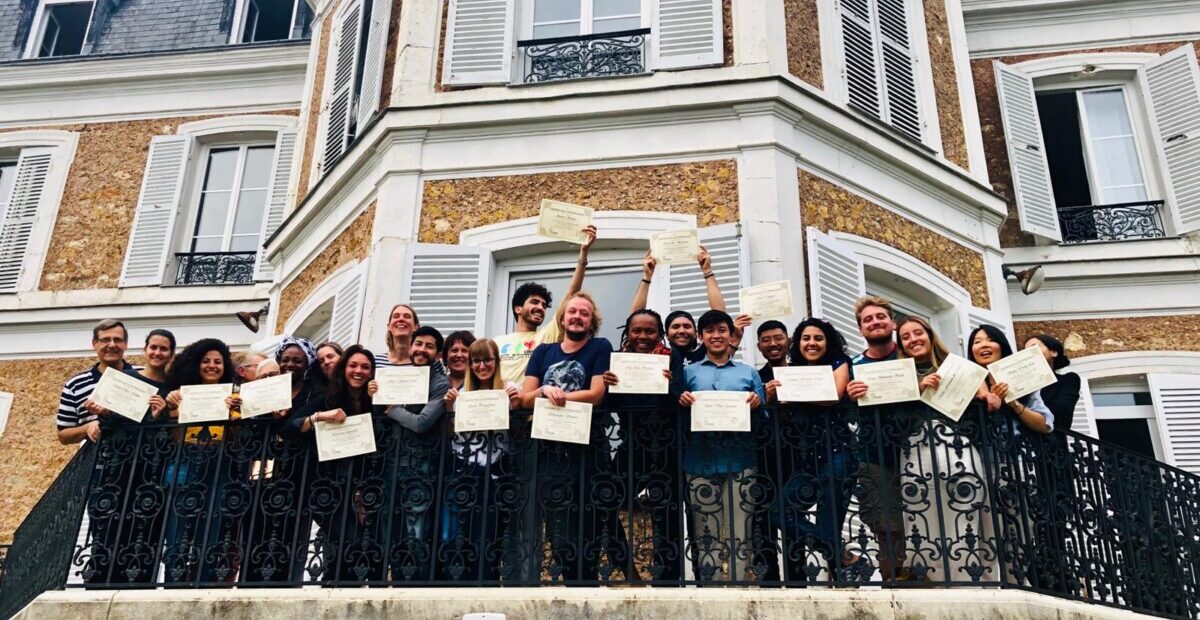 The first school for "Ambassadors of a United Word" was held from 2nd to 7th September at Arny Mariapolis Center, 35 km south of Paris, France, attended by 16 young people selected from 15 different countries.
The program was promoted by the New Humanity International Association, a Non-Governmental Organization (NGO), which is part of the Focolare Movement, inspired by its spirit and values. The aim of the school was to empower a group of young change-makers, peace-builders and community leaders with valuable competencies through forming them in the culture of unity, peace and fraternity, enabling them to become true "ambassadors" of a united world and effective spokespersons for the Focolare NGO at a national and international level. The 16 young participants came from Belgium, Brazil, Cameroon, Colombia, Ecuador, Kenya, Iraq, Italy, Lebanon, Mexico, Nigeria, Philippines, South Korea, Spain and the United States.
«This is the first training school run by New Humanity» explained Chantal Grevin, lead representative of New Humanity at UNESCO headquarters in Paris. «It's proved to be very effective. Through the weeklong program the group received training in the essential competencies required to become lively protagonists in our NGO».
The program included discussions on current issues, animated by members of the New Humanity team, combined with formal training sessions. By means of a methodology incorporating role play and valuable input from colleagues from other NGOs, each young ambassador developed their own capacity to present and explain clearly, in high level forums, the aims, actions and projects of New Humanity.
«We analyzed what we actually mean by a 'united world', what peace is, what human rights are for us and therefore our fundamental concept of 'person'» explained Marco Desalvo, New Humanity President. «We looked at examples of good practice being lived on a daily basis by our young people around the world to spread the spirit of universal fraternity, as proclaimed in the Universal Declaration of Human Rights, into all areas of society, at all levels. And we worked to translate these examples into language which may be understood and have an impact on international institutions».
On the morning of September 5, the young ambassadors were welcomed inside UNESCO by the Social and Human Sciences Youth section and Education (Global Citizenship) Section.
«What emerged was an open and free dialogue through which the UNESCO representatives gained a deeper understanding of what New Humanity does. The young ambassadors put into practice what they had learnt during the school and gave their own positive experiences of global citizenship» commented Chantal Grevin.
Later that same day, some of the participants had personal meetings with representatives of their own nation's Permanent Delegation to UNESCO. It was an opportunity to express their vision of the great challenges of peace, ecology and fraternity.
The ambassadors also had the opportunity to meet and dialogue with Monsignor Francesco Follo, Permanent Observer of the Holy See at UNESCO and Marie-Claude Machon-Honoré, Philippe Beaussant and Patrick Gallaud, President, Vice-President, and former President respectively of the NGO-UNESCO Liaison Committee.
«Thanks to this training I've learnt a lot about how the United Nations works, and the role of NGOs around the world,» reflected Luciana, a young Italian lawyer, at the conclusion of the course. «Above all I've discovered what really motivates me to move in this direction. As a New Humanity ambassador, I want to promote the idea that helping one another can make a great difference in creating a more united world. I've understood that small actions can have a great impact on people's wellbeing. So it was an honour to have been part of this fantastic project!»
Pascal, from Lebanon commented, «When I arrived, I was discouraged and could not see the possibility of any solution for my own country.  Here I've found new courage and hope. I've understood that we can carry on, we can really work to reach a united world. I know it will succeed! I can't wait to get back to my country and get going!»
Noè, from Mexico, added «I came here with my friend Josef from the United States. We both live just a few kilometres on either side of the border between our two countries. We're already involved in projects to help migrants. So going back we'll be able to put into practice what we've learned here».
At the end of the training week, the 16 participants collaborated on drawing up an action plan for the future of the New Humanity "Ambassadors of a United World" program, involving a further 60 young people around the world engaged in promoting at local and international level their common ideal of universal fraternity, guided by the slogan "better together", which had been, in fact, key to the whole Parisian experience.