Workshop
Coronavirus, the experience of a young Italian nurse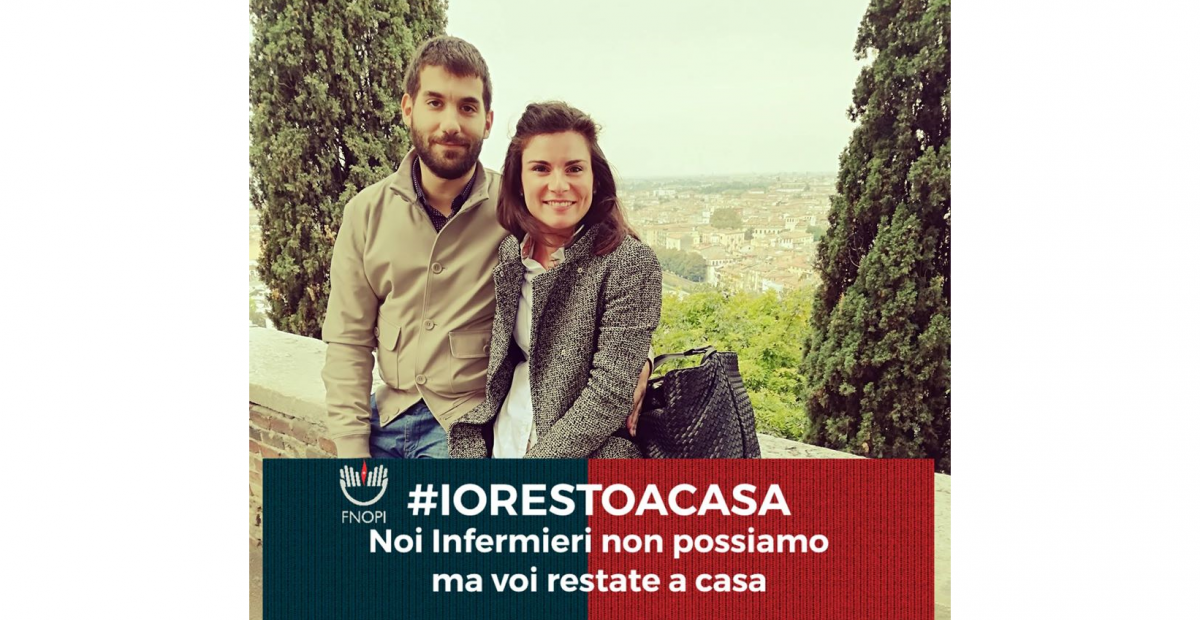 The testimony of Chiara Muffato, nurse in Mestre, province of Venice, for weeks an area with a high prevalence of Coronavirus.
Since Wednesday, March 11, the whole of Italy has been in quarantine due to the Coronavirus outbreak. To date (20th of march), there are 41.035 cases and 3.405 deaths. The Italian Prime Minister, Giuseppe Conte, signed a Decree of the President of the Council of Ministers to contain and manage the COVID-19 emergency throughout Italy. «I am about to sign a measure – he announced – that I could define as follows: #Istayathome. There will be no more "red zone" or "zone 1 and zone 2," there will be only "Italy protected zone." Therefore, everyone has to avoid displacements throughout the national territory unless they are motivated by reasons of work, necessity, or health. […] We add a ban on groupings both outdoors and indoors».
Chiara Muffato lives in Noale, metropolitan city of Venice, in the Italian Region of Veneto, she is 28 and serves as a nurse in the hematology department of the Ospedale dell'Angelo (Angel's Hospital) of Mestre. An area that has been officially declared a red zone since Sunday, March 8, but whose situation had already been prejudiced for a long time.
A few days ago, Chiara wrote to her friends, «During a shift, I had a positive suspect patient, so we had to wear all the protective equipment. Then I experienced the discomfort that my colleagues, doctors and nurses, feel when they wear that kit that doesn't let you breathe, in which you sweat a lot… And I only wore it for a few hours! This experience urged me to let many people know what all doctors and nurses do for them».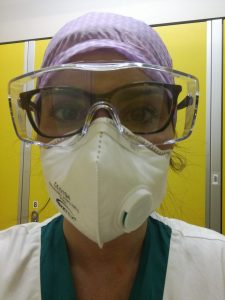 According to Chiara, it is important that the whole world knows the situation «not in the aim to create alarm but to increase awareness. As a health care professional worker, I am trying to do my part, with the right information. At work, I am armoured in my ward but, right now, we have had no cases. In the hospital, on the other hand, in the other wards, there are, and I know it's hard because of the shortage of beds and resources».
Giving the best of oneself, beyond fear
These days, the condition of those who work in health care is heavy, even psychologically. Chiara explains «being forced to go to your workplace is mentally difficult, first of all because I am aware that I am continually at risk of contagion, and then because I am afraid to become in turn a vehicle of contagion for those close to me: my boyfriend, my family, my grandparents…».
Then, where do you find the strength? «In being aware that I am not doing something with an end in itself but to help my brothers and sisters. I can give comfort, I can give the right piece of information. I can be supportive, inside and outside the hospital», explains Chiara.
The best and the worst of a society
In this context, according to Chiara, the beauty and weaknesses of a society, a people, or a country are more evident. On the one hand, there are «those who stay at home and try to get the right message across, but also those who are careless of everything and everyone. Those who do their best to help people in trouble, for shopping or their basic necessities, and those who worry only because they won't be able to go out for a 'happy hour' at the pub, as they do every Friday».
Chiara also remarks that, at work, «union is strength and we always try to work as a team, both in emergency and non-emergency situations. Only in this way will the result be the best for the person assisted, and workload will be distributed without burdening only one person. For us, physically and mentally, teamwork is necessary».
On the front line during a pandemic
«When I decided to become a nurse, I was aware that emergency situations could be the order of the day. But I never imagined I'd find myself in a crisis like this. At work, emergencies can always happen, but they are limited to the hospital, the ward, that patient, and that moment in time. Today's situation is an omnipresent emergency. Paradoxically I feel safer at work, in the ward where I serve, because I can take all the precautions compared to being at home».
In such a state of affairs, explains Chiara, it is important to follow the government's directives and try to see what is happening from another perspective. «I think it would help to consider it not as a time of imprisonment or deprivation, but as a period that allows you to stop and reflect, that helps you see the other person with different eyes. The society of the SELF is now discovering that civic sense, the common good, exists only if there is a WE. Staying at home, paying attention, depriving ourselves of kisses and hugs – we should see all this with new eyes. This situation, this emergency, is a chance to rediscover each other and rediscover things around us».
Chiara concludes: «I hope that all this will help us to get more united, to understand that the single person "is" if there is also the neighbour. We must see farther than the end of our noses, because if we keep on living selfishly, giving more importance to the "self" than to "us", we would have no chance to survive».