Workshop
Dare to care, beyond the distance
Mexico and Taiwan are separated by the Pacific Ocean and have 13,534 kilometres in between, but they are united by something that goes beyond distance: brotherhood. Not a political or economic brotherhood, but one built from below, through concrete actions of solidarity that sow hope. A fraternity that is built when we #daretocare.
This is the story of David and Nikté from Mexico, and of Roisin from Taiwan. It all started with the arrival of the pandemic.
Despite being close to China, the starting point of the epidemic, Taiwan has managed to control the situation and has less than 500 infections. In Mexico, though, the situation became more critical. Currently, it has the fourth highest number of infected people in Latin America and the second highest number of deaths (with the death of more than 27,000 people).
The pandemic has not only affected people's health, but social behaviour and economy, as well. This last aspect is precisely the starting point of this story; of an initiative that goes beyond borders, trying to help the most needy, who have suffered the most from the pandemic.
That's how Nikté, a young Mexican girl explains: "When the confinement began in Mexico, we immediately understood with David that we had to do something to help people who live in poverty and do not have a job. We started raising money and thinking about what we could do for them. It only takes courage to do something for others. We started with very little money and food that we brought to these people, and then we recorded some videos with them in which they gave thanks for the help.
One of the great protagonists of these times has been digital connectivity and communication. The videos registered by Nikté reached Roisin in Taiwan, who, seeing the situation in Mexico, decided to act. "Fortunately, we in Taiwan were not hit hard by the pandemic and when I saw this video, I was shocked to see people living in this situation," said Roisin.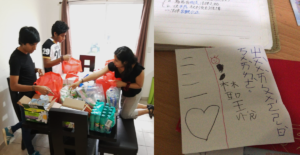 Then, he decided to share the video with his friends and acquaintances: "When people saw the situation in Mexico, they started donating funds but also spread the word in the East Asian area. People got involved from Korea, Japan, Hong Kong and even from other places, such as Vancouver and the UK. It was surprising to see how people decided to donate unconditionally and with complete trust, without even asking whether it was a state or private organization. They simply believed and trusted in us and gave generously."
The aid has arrived in Mexico from six countries and from 150 individuals. As a result, 25 households receive food and personal hygiene products every week. The project started in March and so far, it has been able to feed 1500 children. David takes careful note of the money that is received and given. He is very much aware of the evolution and path of what first began only as an idea. He claims that for him it has all been very special, and adds: "We can say that a network of help has been created. It is a beautiful experience that goes beyond borders. This aid is reaching those who are most in need and is giving them some hope.
Meeting on different days due to the 13 hours of time difference between Mexico and Taiwan, the three finally met thanks to this interview. Roisin agrees with David's words and adds: "For me, it was a true example of unity. The pandemic isolated us, but this experience brought us all together".