Workshop
Dance embracing encounter, dialogue and peace.
Dance is a way of life for Mitali D'souza, and an instrument for creating fraternity. Her dance is rooted in the Hindu faith and tradition. "Odissi is one of the eight classical dance forms in India.  It is a very very old dance form from the 2nd century B.C. But it used to be performed only in the temples and slowly it has come out of the temples. And I have been really really lucky to know the people who have been instrumental in getting it out of the temple. This started after Independence, around the 1950s. So that's how it started being performed more for the masses".
Mitali's dance, her "way of life", is the "Odissi" dance, so called because it originates in the State of Orissa, on the eastern coast of India. Now living in Mumbai, Mitali comes from a family of artists and started dancing at the age of five or six years. Her mother is a singer and her father was a versatile musician. Actually, in India, dance is not generally viewed as a profession, but Mitali recalls that she received great encouragement from her parents, and later from her husband, Raul who is himself a dancer, and their two daughters Diya and Risa. «I was really lucky to meet Raul, who's very supportive about my profession because he himself is a dancer and an artist», she smiles.
Raul, who is Christian, follows another form of dance called "Bharata Natyam", a contemporary development of a liturgical dance style originating from the 19th century. In fact, their family and professional life is a daily experience of dialogue. «Both of us were at a very good stage – in our dance – at the time we got married, so we decided not to combine and not to dance together». Having said that, a year later, they were invited to dance together at a conference in the United States of America, to perform a kind of "pas de deux".  «It was a very challenging thing because it's like two languages have to combine suddenly, you know, and do something!" she recalls. So Mitali and Raul turned to their respective teachers, their gurus, and together choreographed a three minute piece. «It was the opening sequence of Shiva and Parvati, when they come together, also called "Ardhanariswar". … After our show, we received many blessings, a lot of good wishes from the audience. They said, "please continue to dance together!" ».
This enthusiastic response from the public made Raul and Mitali reconsider the possibility of expressing the dialogue so characteristic of their family life through dance as well. «We didn't want to show the differences of our styles, but we wanted to show how we can complement each other's style». And that's not all. «Sometimes on stage we realise that one of us has made a mistake or forgotten something.  Because we have that chemistry, and we're husband and wife, we just try to make up for each other's mistakes. So every show has been a memorable one from our side! With the audience reactions and encouragement!».
Mitali runs a dance school, teaching pupils of all ages, from children to elderly. «I used to think that dance is for a particular set of people, of a particular age. However, in my journey, especially over the last three years, I've met many people who wanted to learn dance. So I've started experimenting with seniors, over 70 years of age».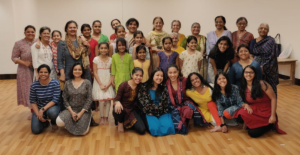 This all began when a friend asked her to choreograph a dance for older people, as part of the International Day of Older Persons. Her new students performed this new piece to perfection. A month later, she was contacted by another NGO with an even greater challenge.«This time all the people were in wheelchairs! I thought: what can I teach? But I started playing music, and started clapping: up, down, diagonal, then going round. Then we started snapping fingers, crossing hands. And they were thoroughly enjoying it! So the director asked me to continue coming». Then a third experience: a neighbor who is a yoga instructor and aged about 80, asked Mitali to teach her Odissi dance, and soon got others of the same age involved. «Today, I'm proud to say I have pupils aged from 5 to 100 years plus. My friend's grandmother just completed 100, and was part of a workshop I did recently for seniors!»
It's wonderful to listen to Mitali. You can feel all the passion and love she has for her pupils and her discipline. Clearly, it's not just a matter of technique…
In India it is said a dancer is a mediator to convey the message of God to the audience and what the audience feels to God.
For Mitali, dance has three aims, summed up in the "three 'E's: «It's a medium to Educate, a medium to Entertain and to Enlighten the masses». And, she continues, «In India it's said, a dancer is a mediator to convey the message of God to the audience and what the audience feels to God».
She explains what she means through a story. «I was due to perform a solo program just after the terrorist attacks on Mumbai (in 2008). The venue was opposite the Oberoi-Trident Hotel, where the attack happened. But the show did go on. At the end of the show, a lady came up to me in tears and said, "Mitali, I want to tell you that today I experienced heaven". I was so taken aback, because if through me somebody can experience heaven, what more could a dancer, could anybody, want?».
Watch the complete interview with Mitali D'souza: