Workshop
Paglaum, a name that means "hope"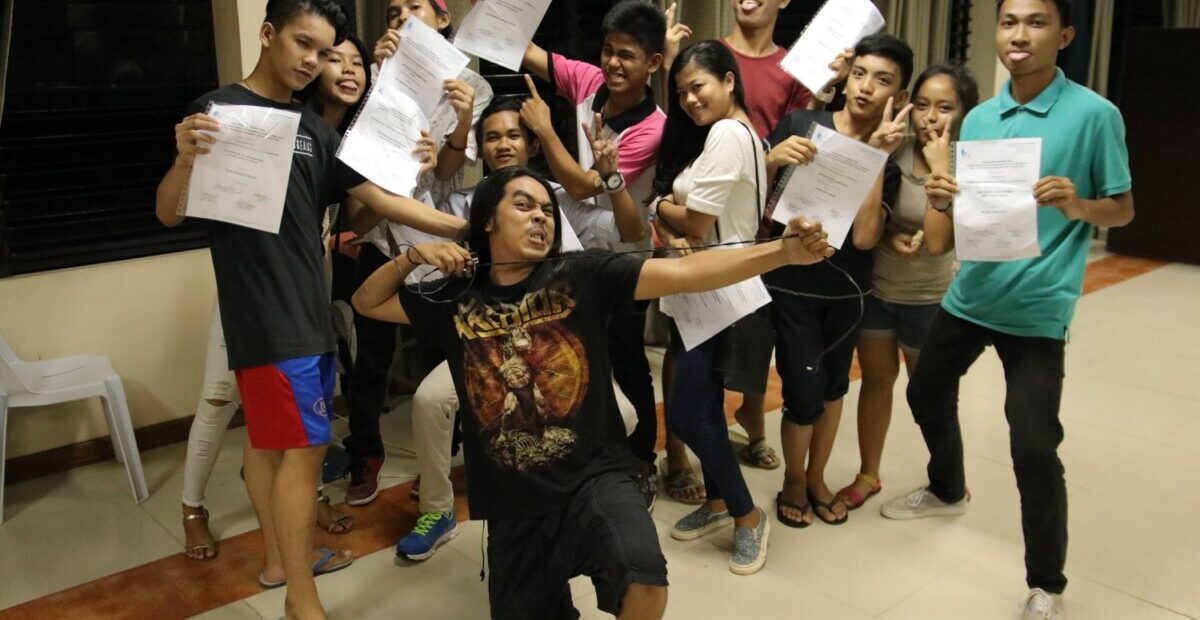 Cinema, a group of Filipino teenagers, and their ability to tell stories that give hope.
In the summer of 2016, on the island of Cebu, archipelago of the Philippines, the Fondazione Bukas Palad di Cebu (BPCFI) organized the first audiovisual storytelling workshop entitled "Transformative Storytelling in Motion Picture". Ten adolescents (between 14 and 20 years old) were involved, all in situations of social fragility. "At the beginning," said one of them, "I thought that this film production workshop was only about cinematography, but now I realize that I have also learned a lot about real life." During classes, in fact, they learned to listen to others and to themselves, to open up, to accept their own life condition and their own story.
"My goal was to provide participants with cinematic skills that would allow them to get out of their shells and express themselves through this art form" – explains the promoter, Aurelio M.R. Rodriguez, a member of the BPCFI staff – "and it seemed a fairly simple goal. I was not prepared for the impact that the workshop could have on the lives of those 10 teenagers. In fact, it allowed them to look at their own story, their own life, in a new light: as a challenge to face but also as a gift to share. They realized that together they could sublimate in art their difficult and painful reality, and inspire hope and transformation also in others, in their audience."
One of the many impressions of participants at the end of the course: "Attending this workshop was a gift for my life. It opened my mind to a new way of looking at people's lives, irrespective to labels related to their status, age, gender, or capacity for understanding. Nothing really matters, except the person's story. Cinematography has shaped me into a tool capable of doing justice to every existence. Honestly, it would have been difficult without the help of the rest of the team."
This adventure bore fruits such as a documentary based on the stories of the participants and then, even a production company: PAGLAUM, meaning "hope" in Filipino. This is how Ryan Quejada, the first director of Paglaum, describes it on Facebook: "We are a group of adolescents from different socio-economic backgrounds who dream of making our own contribution to transforming society, starting with ourselves and helping others through the stories that we will tell through our films, which will be directed, shot, and edited entirely by us."
The first summer course was followed by two more, with dozens of participants. In the 2018 edition, the first 10 young pioneers of Paglaum acted as assistants to the trainers, offering their experience to the new students.
To date, the PAGLAUM team has produced 5 short documentaries for 3 non-profit organizations in Cebu and has two more in the pipeline: one for Caritas Philippines and another one for "Sistemang Pilipino," a non-profit organization that focuses on the musical education of Filipino children, inspired by "El Sistema," the educational model started in Venezuela by maestro José Antonio Abreu. Their short documentary "BUNGA" about the story of the farmers of the Cebu marketplace, touched many hearts for their skills in terms of identification and narration.
"In fact," concludes Aurelio M.R. Rodriguez, "the teenagers of PAGLAUM have grown not only individually but also as a team. They learned the value of teamwork and how to be a gift to the community. We hope that this way of thinking and acting will continue to spread and touch many other lives."
HERE, the other videos.