Workshop
"Pills" of hope: the silent transmission #3
We continue to receive heartening news which we publish here to highlight the countless initiatives multiplying in many parts of the planet.
In the first "Pills" of Hope article we quoted Lao Tsu: "a falling tree makes more noise than a growing forest", noting how negative news generates more impact than positive news which often moves silently. There are, however, a surprizingly large and growing number of initiatives demonstrating how our creativity, our care for those in difficulty and our response to the need to give a hand, are all making noise and generating a positive impact which is more contagious and powerful that we could have imagined.
We can say this because we're receiving more and more  of this type of news from many different places.
New York, USA: 40,000 health professionals volunteering
The United States is now the country hardest hit by Covid-19, with 672,000 cases and 33,000 deaths so far. New York has the most cases of any city in the world, with 123,000 and almost 11,500 deaths to date.
So New York Governor, Andrew Cuomo made a public appeal for volunteers to work in the state's hospitals. Over 40,000 people responded, mostly doctors, nurses, support workers, technicians and mental health specialists. Some airlines (such as Southwest Airlines) offered free flights from all over the US to get the volunteers to New York.
Source: Telemundo47.com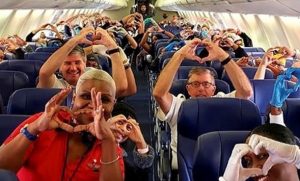 Milan, Italy: "The Red Cross saved us from the sea and now we want to do something for them"
A few years ago, Husen Abdussalam was making the perilous Mediterranean crossing with others from Ethiopia, and was saved from the waves by the Red Cross, eventually being brought to Milan, Italy. Today as president of the regional Oromo Association he and his fellow-Ethiopians brought five cartloads of fresh produce, tinned food, personal hygiene and baby supplies to the Italian Red Cross.
«The Red Cross saved us from the sea and now we want to do something for them and for Milan, the city which has welcomed us and our children, and which we now feel is our own», said Husen. This practical gesture of support will help families in difficulty being reached through the "Supply Chain of Solidarity" project.
Source: Repubblica.it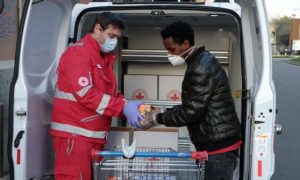 Philippines: the "Noche Buena (Christmas Eve) Project"
After tropical storm Ketsana hit the Philippines in 2009, a large group of Focolare Movement members there, including many young people, launched a project to help the victims in Quezon City. Once the immediate crisis was over, they continued helping people and families living in conditions of poverty during the long pre-Christmas season. That's how the "Noche Buena" Project started, collecting money to ensure every nuclear family had what's necessary to celebrate the traditional Filipino Christmas Eve meal.
Now, with the Corona Virus outbreak, they've launched #GiveNowToGiveBack, collecting donations, water and food for people in quarantine, as well as personal protective equipment and other support for health workers. Within a week they received 450 food parcels, 208 litres of disinfectant alcohol, 56 litres of disinfectant gel, 150 masks and 2,400 bottles of water, as well as eggs, flour and hot meals.
Video Buena Noche Project
Visit The Noche Buena Project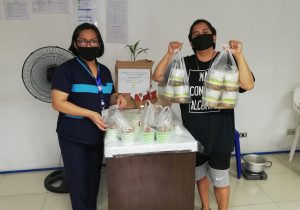 East Yorkshire, England: the couple who donated their wedding banquet
Many weddings have been cancelled or postponed in this period. And that's what happened to Fiona and Adam Gordon, from East Yorkshire in England. The difference is they transformed this obstacle into an opportunity. When their celebration was cancelled, they were contacted by their caterer Tony Norris, who asked if they would like to donate the food to National Health Service workers. The couple agreed at once and Norris got volunteers at veterans' charity Hull4Heroes to help serve the food. Through this action, Fiona and Adam provided meals for 400 hospital workers for two days!
The couple, having postponed the party, decided to go ahead with their marriage, in full wedding attire but with just 2 witnesses instead of the 120 guests they'd originally planned. "Then we went home, changed out of our clothes and had some champagne and cake".
Source: Independent.co.uk
Argentina and Scotland: breweries produce sanitizing gel to donate
The Cervecería y Maltería Quilmes company, the artisan brewery Brewhouse and the Atlantic Coast distillery which produces "La Restinga" gin combined forces to produce 70% liquid alcohol, which they donated to the hospitals of Mar del Plata, a city on the Argentine coast, and neighbouring cities.
In Scotland, a number of beer and spirits producers have started to use their basic raw material to make alcohol-based sanitizing gel.  One of these, Brewdog donated their gel to a hospital and two welfare associations. In March, Leith Gin suspended all spirit production and started making high strength hand sanitizer for their local community. Likewise Verdant Spirit Co. based in Dundee.
Sources: brewdogofficial y ladoh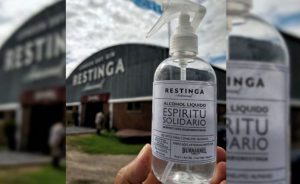 Needham, Massachusetts (USA): the mystery man buying up all the flowers
Julie Ben-David has run her own florist shop since 1995. When she heard it would have to close because of the pandemic, she was devastated. Until she received an unexpected phone call from a "mystery man" who wanted to buy all the flowers in her shop, in order to help her get through this period. The mysterious benefactor also made an order to send ten floral bouquets anonymously to different parts of the city.
"I thought he was joking at first," recounted the florist. "You can't even describe the feeling that I have, not only as a business owner but just as a person. It's about reaching out and being good to each other and kind to each other".
Source: boston.cbslocal.com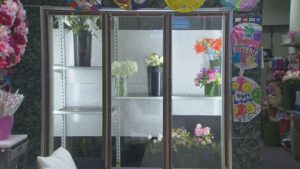 Argentina: She can barely see but she's still knitting blankets for babies
Betty has a visual impairment and other debilitating health conditions. Nevertheless, for many years she's been knitting woollen squares to make blankets for newly born babies in Salta hospitals, north west Argentina.
Her carer, Carolina contacted Betty's friend Analía to show her that week's production and confide that they had run out of wool. In response, Analía with another friend, Alicia, arranged for a delivery service to bring her more wool supplies and also to collect the blankets Betty and Carolina had completed, to take them to the hospitals.
"Despite our limitations, we can always find a way to help out and be a gift for one another. This is what keeps Betty in her wool squares", commented Analía.
Sources: Grupo Coronavirus en Positivo (Facebook)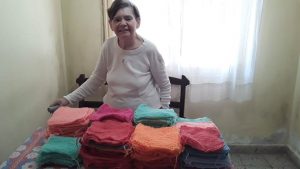 Bergamo, Italy: "It's our civic duty to cook for those who are battling to save our lives"
30 restaurants in Bergamo, Italy, have stayed open in order to cook and deliver food to the medical staff at the city's hospitals. Local taxi drivers deliver the meals free of charge in a chain of solidarity in appreciation and gratitude for those who are risking their lives daily and working tirelessly for others.
"It's our civic duty to cook for those who are battling to save our lives," said Daniele Visconti of the Trattoria Visconti, Ambivere. "Bergamo is broken hearted, but we Bergamaschi will not break down, we'll rise up again. Just now we need everyone's help".
Source: Repubblica.it