Workshop
Prophetic Economy: the binomial of ecology and economics
In Rome, on June 9, 2019, an intergenerational day of training and sharing will be held, promoted by Prophetic Economy and entitled, "The Biodiversity of Talents for the Care of the Common Home."
«After "Prophetic Economy, For The People, Planet and our Future" a congress held in November 2018 at the Mariapolis International Center of Castel Gandolfo (Italy) with 500 participants from over 40 countries, we wanted to propose a second major event… But then, we realized that we had to figure out together the next step to take, the new frontier!», says Florencia Locascio, member of the organizing committee of Prophetic Economy. This is their proposal: «We thought of involving new partners by making an experience together, an insight, in three stages. The first will take place in Rome, at the headquarters of Nomadelfia, on June 9, under the title, "The biodiversity of talents for the care of the common home" an alternative way to describe the diversity of charisms. It will be an opportunity to be enriched by the diversity of others, and then work together, making this diversity bear fruit».
Merging the various forms of diversity not only to reach the critical mass that is necessary for change, but also to confirm the intention not to leave anyone alone. "May no one remain alone in the fight against poverty," said Father Wresinski, founder of ATD Quart Monde, promoter of the Prophetic Economy together with Comunità Papa Giovanni XXIII (Community Pope John XXIII), Nomadelfia, Movimento globale cattolico del clima (Catholic Global Climate Movement), Associazione Mondo di Comunita e Famiglia (the World of Community and Family Association), the SlotMob initiative, and the Focolare Movement with its proposals Economia di Comunione (Economy of Communion) and Teens for Unity.
«It will be another intergenerational meeting. We expect participants from 9 years of age upwards! After the experience of last November, there is no turning back – no more meetings or events without the active involvement of young people. There is no point in discussing the environmental and social crisis without involving young people, whose ideas on the subject are much clearer than the ideas of adults. They were born in a world marked by change and they bear a knowledge that adults do not have… We have an old mentality!».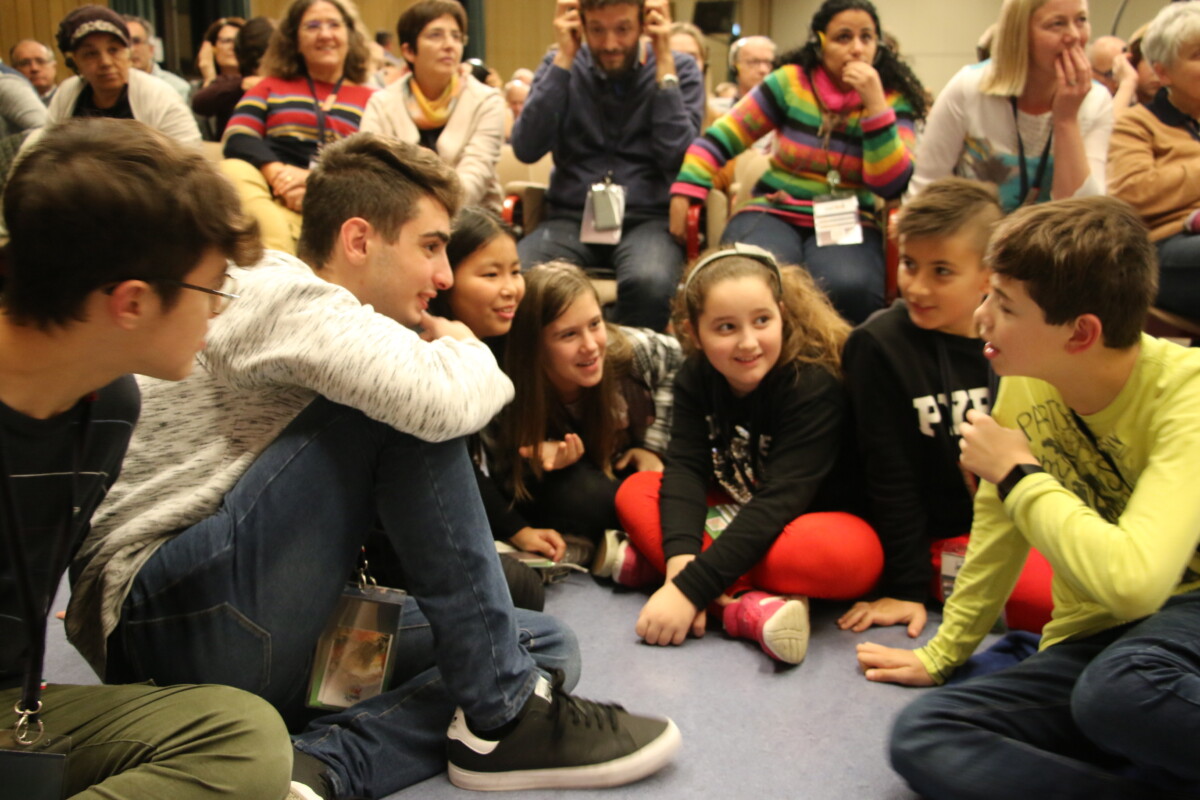 So, who does this Roman event of Prophetic Economy address?
«Surely, the participants of the first edition who want to continue to build this path together as well as the other movements, organizations, bodies, and parish groups who want to follow this path with us, but also the change-makers! The main purpose is to set up a network, new forms of collaboration involving all those who are working for a new economy. But since this cannot be done only through events, we thought of organizing a smaller meeting that would allow us to get our hands dirty together. We want everyone to live this experience of growing together», says Florencia.
Meanwhile, the Prophetic Economy is making progress and spreading in other countries: Croatia, Germany, Belgium, even Korea.
Jean Tonglet, a member of ATD Quart Monde, at the end of the event of November 2018, recalled that one of the basic conditions for implementing a prophetic economy is to take advantage of our diversity. Indeed, such cultural, spiritual, and talent-based "biodiversity" is to bear fruits whose flavours and colours we cannot even imagine yet.
The program event:
"La biodiversità dei talenti per la cura della casa comune"