Workshop
The earthquake in Haiti and the missionaries of the Belém Mission
In 2010, Haiti suffered one of the country's biggest disasters. Eleven years later, a new earthquake heightens the crisis in the country that has not yet recovered from past tragedies. The missionaries of the Belém Mission tell us about the situation in the country and their work to help the Haitian people.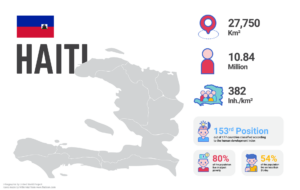 Destroyed buildings, rubble, buried bodies, severely injured people in the streets, hundreds of families sleeping in the open: these are some of the scenes we see and read about Haiti, from the news and on social media, a Latin American country that many know as one of the poorest in the world.
The country on the island of Hispaniola is struggling to rebuild from a 2010 earthquake that destroyed much of its territory. Eleven years later, a 7.2-magnitude earthquake (data EMSC), greater than that of 2010, affects the country that has not yet recovered from past disasters and that is experiencing, in addition to the Pandemic, a strong economic and political crisis, with the assassination of President Jovenel Moïse in July of this year.
According to BBC News, the August 14 earthquake left more than 2,000 dead and a population physically and mentally devastated. The country now faces shortages of food, water, lack of power, shelter and medical care.
We interviewed two missionaries who are in Haiti to fully understand the current situation in the country, the work they are doing as Missione Belém to help Haitians and what can be done immediately to support this population¹.
Sister Valessa, 28, and Brother Helio, 30, are missionaries of the Belém Mission, a religious movement born in 2005 in São Paulo, Brazil, with the goal of "being a family for those who have none, "welcoming and accompanying homeless people and drug addicts. The Belém Mission is also in Port au Prince, capital of Haiti, since 2010, in one of the poorest neighborhoods of the city. There they have opened an educational center for children and adolescents, an infirmary, a nutritional center and are now building a hospital complex.
The two religious interviewed are Brazilian and were transferred to Haiti in 2013 and, for them, despite the impact with the social reality, it is a great joy to be able to give life and bring hope to this "suffering and warrior" population.
[1] Donations through Franciscans of Divine Providence (Brazil):
http://www.franciscanosnaprovidencia.org.br/associacao/missaobrasilhaiti
Banco do Brasil
Agenzia 06916-7 – Conto corrente: 06682-6
Santander
Agenzia 0014 – Conto corrente 13.005017-0
* Monthly donations can be made by bank bulletin, automatic debit or credit card. Access: www.franciscanosnaprovidencia.org.br/doacao
* For questions or information contact the fundraising team on WhatsApp + 55 (17) 98157-1414
[2] In vídeo 2, Valessa refers to Cracolândia, a region in São Paulo where drug addicts live on the streets and use crack in the open.