Network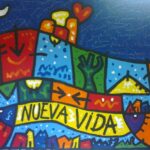 "Nueva vida" Project is based on the "Youth Center" of Borro, one of the most degraded slums of Montevideo (the capital city of Uruguay). It gives the chance for more than 300 young people of studing and having a meal.
The "New Life" Project began in the Borro neighbor of Montevideo, with afterschool tutoring, called "Club for Children", where three teachers helped 50 children from 6 to 12 years of age to overcome their difficulties in their studies. Thanks to this support, many students over the years have been able to pass their end of the year final exams.
Over time the "Centro Juvenil" (Youth Center), with boys between 12 and 18 years came to life. It carries out an after school activity; some teachers are at the disposal to help the students in different subjects. In the "Youth Center" they also organize specific courses (music, cooking, crafts, courses for beauticians, …) that offer a basic vocational training up to eighteen years of age.
The youth also are able to have lunch in the cafeteria of the Center free of charge. For many of them this is the only meal of the day.
The boys of the Borro neighborhood receive concrete help to support their educational expenditures: for school supplies, clothing (uniforms, tracksuits and sneakers) and means of transport to reach the school. The project assures everyone the help that allows them to follow the curriculum in the best possible way.
Recipients also receive small financial aid to avoid the need to go and work with their parents, as this fact would prevent them from going to school.
"New Life" has been repeatedly presented by the authorities of the Ministry of Social Development as a model project for other educational projects run by NGOs.
Information
Related articles