Workshop
Toumany and his care for others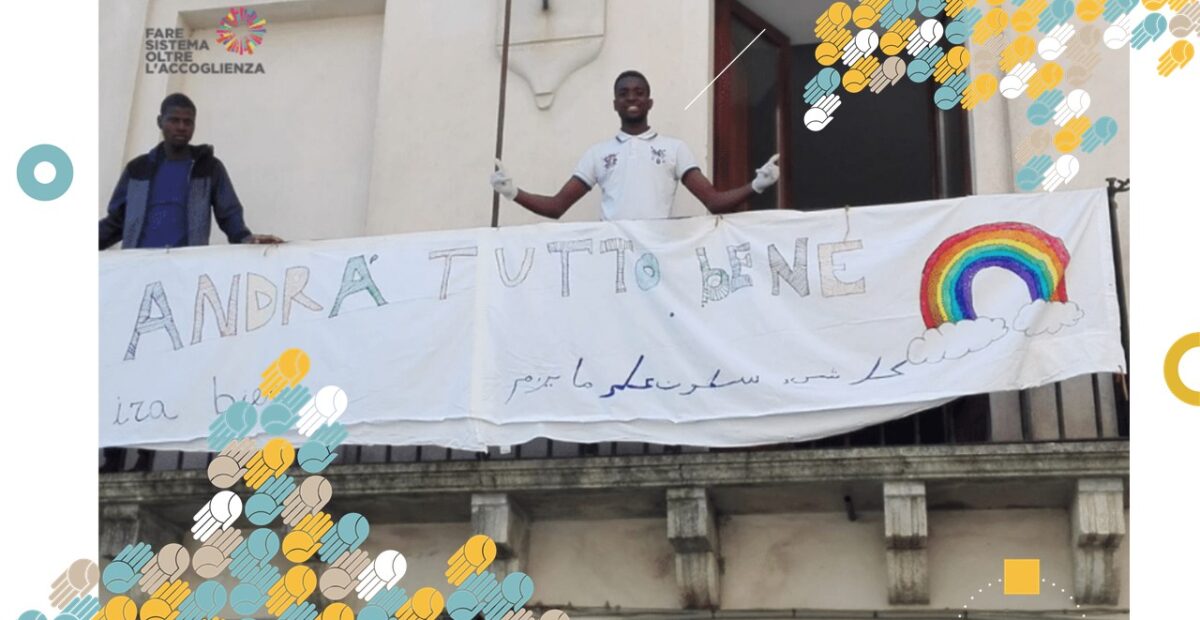 Today we want to tell you the story of Toumany: he was only 16 years old when he first arrived at Casa di Ismaele in 2017. He has come a long way: he is now of age, he studies, works and has become more and more independent with time. The most remarkable thing about him, though, is his character: he is kind, cheerful, punctual, and always willing to help other people. His experience has been made possible thanks to the project named 'Fare Sistema oltre l'accoglienza' ('Creating a Network beyond reception'), which is a national network made up of families, businesses, associations and institutions. The project is promoted by AMU, AFN Onlus and Cooperativa Foco, with the support of a number of partners, and its aim is to encourage interaction and cooperation in order to make it easier for the most vulnerable to integrate into Italian society. The idea behind it is that inclusion is an experience of reciprocity to which everyone is called.
You only hear good things about Toumany. "He is punctual, he is respectful, he is a special person", says Emanuela Gabriele, a former social worker at Casa di Ismaele. "A young man of few words, polite, cheerful, bright" is how cultural mediator Alfousaney describes him. "He's never said a word too much", confirms Francesco Altomare, who works in administration at Casa di Ismaele. Clearly, Toumany has won everybody's heart.
He arrived in Italy three years ago, in 2017, aged sixteen. His country of origin is Senegal. The story of his journey is similar to many other people's, with the perilous and painful crossing of the Mediterranean, the arrival on the Italian coast and the feeling of bewilderment about the new situation. He was one of the first young people to stay at Casa di Ismaele in Rogliano. The home was opened on 30 June 2017 to deal with the emergency of the landings in Calabria. "We drove to Corigliano to pick up this group of fifteen unaccompanied minors", Francesco Altomare recalls. At that time, Corigliano was one of the destinations for people smugglers. "When he arrived, he was shaken from the journey, from his imprisonment, but he immediately realised that he was exactly where he wanted to be, he was in the right place. From that moment on, he trusted us" Emanuela, the former social worker, recalls. Toumany quickly settled into his new home and started taking part in the projects and initiatives that were proposed to him. He began attending school with enthusiasm: "He wore a blazer to class as a sign of his respect towards the institution". He can speak and write some French, which he learned in school back in Senegal.
He feels at ease at Casa di Ismaele. Emanuela recounts that he has always been very caring towards other people: "When I was pregnant, he helped me in every way he could: he carried my bag, he helped me take a seat. He is a boy that remains in your heart". He hasn't lost his caring attitude. Every day, when he comes back from work, he takes a shower, then he makes a cup of tea "with a lot of lemon" and brings it to Francesco Altomare's desk. He never misses a day. It's a small daily gesture that shows affection and kindness. He makes every effort with newly arrived children, helping them with their shifts in the kitchen for example, and he tries to mediate if the atmosphere gets tense: "he has a great sense of respect towards his family, his friends and those who help him".
One of Toumany's dreams for his life has already become a reality thanks to the Fare Sistema Oltre l'Accoglienza programme: finding a job. Hired first as a trainee, he went on to sign a fixed-term contract with the Presila dairy farm, a family-owned business in the province of Cosenza run by 30-year-old Francesco Catalano: "Our objective was not just to take him on as a trainee, right from the start we decided that we wanted to train him in order to hire him long-term. With time, Toumany has grown professionally. And despite all the Covid-related problems we are facing, we hope to offer him a permanent contract soon". He is a very careful worker. A little shy, maybe, but happy with the work he does. "Now that he has had training, he takes initiatives. I hope I can help him grow further". The Presila dairy farm used to have three employees, now – thanks to Francesco's commitment – eleven people work in the business: "I took on more responsibility, but I made that choice".
"To be able to sustain himself in order to live a life of dignity without having to depend on other people" – that is Toumany's objective, confirms cultural mediator Alfousaney, who knows all too well the amount and the kind of prejudice a migrant has to face: "All we want is to build a better future: is that a crime? People who are born here are lucky. What need do you have of moving somewhere else if you can live well where you were born? Who would sacrifice their own life to go somewhere else if it weren't necessary?".
Toumany would like to travel back to Senegal to spend some time with his family, whom he hasn't seen since 2017, and with his twin baby nephews he has never met except on video call. Here in Italy, he is ready to start making plans for a more independent life. He is attending a distance-learning literacy course given by the Fo.Co. Cooperative, trying to balance study and work. During his three years at Casa di Ismaele, he has grown a lot, and he can now handle his many duties and responsibilities all by himself. "He could achieve a lot", says Francesco Altomare, "but he always says he is happy like this".
Toumany likes to go on long bike rides, play football, and travel to Cosenza to meet his friends: friendship is something he cherishes. Last summer, he was thrilled to be able to spend a day with his friend Kolly, who works in another part of the country. He likes the sea, but he never swims where the water is deep, "maybe he's afraid, it reminds him of the crossing of the Mediterranean", Francesco thinks. One of the most beautiful remarks about Toumany is spoken by Emanuela, the former social worker: "He has a noble soul, something you don't find in people anymore".
Read the original article in Italian on the website of 'Fare Sistema oltre l'Accoglienza'.